Staples Stocks Haven't Done This in 6 Years
---
---
Consumer Staples stocks rarely get investors excited. Now is definitely one of those times.
Thanks to lagging stock prices and shrinking market cap while other sectors gain, Staples' share of the S&P 500 has shrunk below 6% for only the 2nd time in 30 years, according to Bloomberg calculations. That happened in early 2000 as stocks were peaking, and Staples went on to massive outperformance over the next couple of years.
So many of the stocks have been forgotten, for so long, that the McClellan Summation Index for the sector has dropped below -500, enough to consider it deeply oversold. Curiously, this triggered even though the sector itself has been holding above a rising 200-day moving average. According to our Backtest Engine, that wasn't the case the last two times the Summation Index fell to such a low level.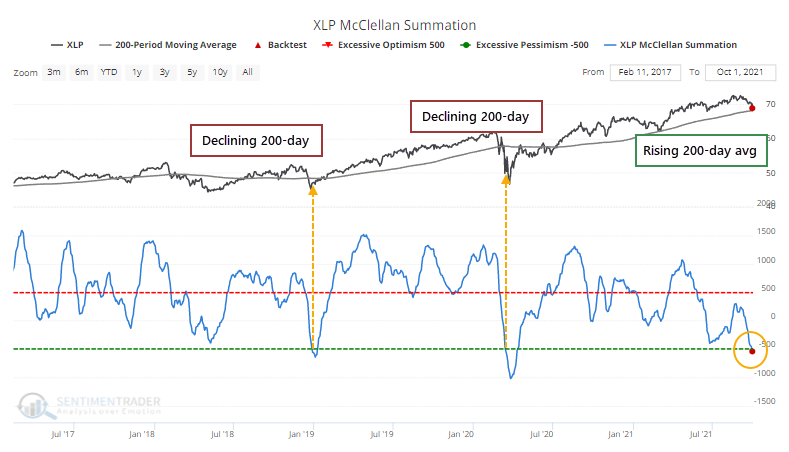 The total return on Staples when it was trading above a rising 200-day moving average and the Summation Index fell below -500 was positive across all time frames, with especially positive returns over the next six months. Out of the 18 signals, 16 showed a positive return over that time frame.

---
What else we're looking at
Total returns in Consumer Staples when the stocks get oversold in uptrends
A look at insider buying and selling activity, options trading, and correlations within the Staples sector
A bond switching strategy based on real interest rates
A detailed look at inflation and central bank policies in emerging markets
---
Stat box



Every stock in the Swiss Market Index is trading below its 50-day moving average for only the 2nd time in two years. The other was a multi-week stretch during the pandemic crash.
---
Etcetera
Asian optimism. The Optimism Index on the EIDO Indonesia fund has averaged more than 90% over the past three days, one of the highest readings in its history. This is a stark difference from sentiment in other Asian markets.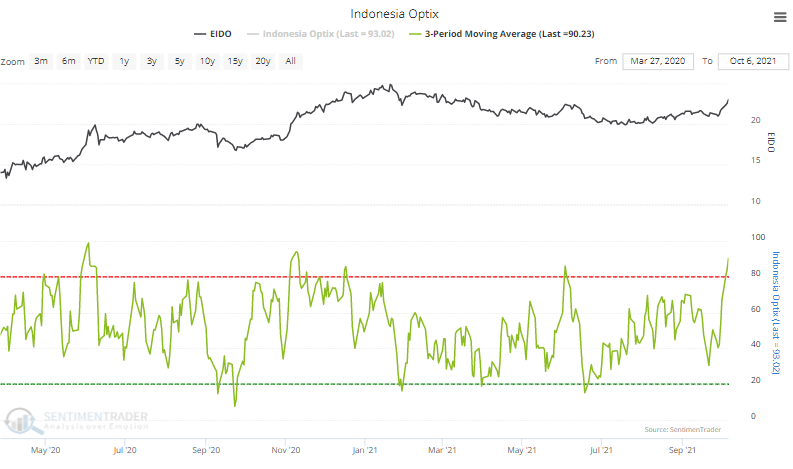 Utilities poled. Optimistic sentiment is not an issue in the Utilities sector. The McClellan Summation Index for the sector just crossed below -1000 for one of the few times in the past decade.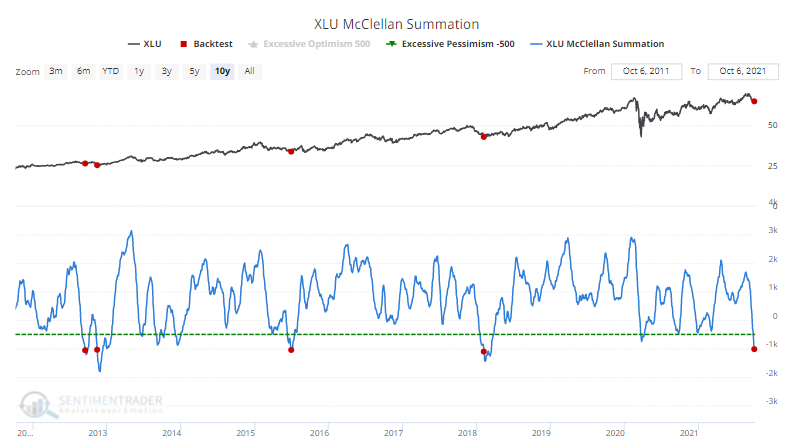 Emerging headwinds. Dean calculates that nearly 50% of emerging market economies have a central bank that is raising their target interest rate. Those markets show a lower annualized return when more than half of them are raising rates.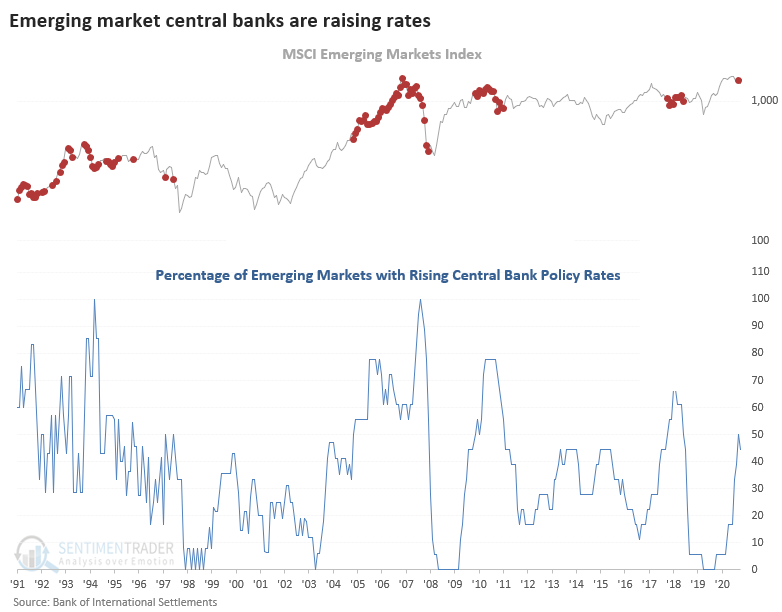 Related Posts:
---
Tagged As:
The post titled Staples Stocks Haven't Done This in 6 Years was originally published as on SentimenTrader.com on 2021-10-07.
At SentimenTrader.com, our service is not focused on market timing per se, but rather risk management. That may be a distinction without a difference, but it's how we approach the markets. We study signs that suggest it is time to raise or lower market exposure as a function of risk relative to probable reward. It is all about risk-adjusted expectations given existing evidence. Learn more about our service , research, models and indicators.
Follow us on Twitter for up to the minute analysis of market action.
Follow @sentimentrader