SPY's Red Monday Leaves An Island And Death Crosses
---
---
This is an abridged version of our Daily Report.
A red bull market Monday
Bull markets sometimes suffer heavy selling following weekend news events, but even so, Monday was severe. It ranked in the bottom 3.5% of all bull market Monday's since the inception of the popular SPY fund.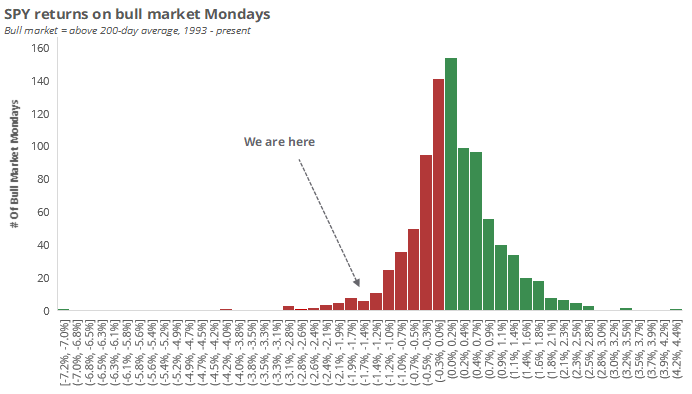 Other times it suffered large losses on bull market Mondays, SPY rallied over the next couple of weeks.
Not the pleasant kind of island
The tech-heavy Nasdaq 100 failed in its breakout attempt on Monday. That left an island formation in the index, after it broke out on March 9 and levitated above its prior high. The pattern is supposed to lead to weak returns, but it has not been a reliable reason to sell tech stocks.
Death crosses across the pond
The Stoxx Europe 600 index just triggered a Death Cross, a technical sell signal. That's the 5th major eurozone index to suffer that signal in the past few weeks. The few other times they all triggered the signal in close proximity, stocks tended to rally hard.
Uncertainty, kind of
The VIX gauge of volatility expectations jumped more than 20% on Monday yet remained relatively subdued below the 20 level.
For access to the full report, indicators, charts, screens, and Backtest Engine, log in or sign up for a free 30-day trial today.
Related Posts:
---
Tagged As:
The post titled SPY's Red Monday Leaves An Island And Death Crosses was originally published as on SentimenTrader.com on 2018-03-20.
At SentimenTrader.com, our service is not focused on market timing per se, but rather risk management. That may be a distinction without a difference, but it's how we approach the markets. We study signs that suggest it is time to raise or lower market exposure as a function of risk relative to probable reward. It is all about risk-adjusted expectations given existing evidence. Learn more about our service , research, models and indicators.
Follow us on Twitter for up to the minute analysis of market action.
Follow @sentimentrader