Smart Money Rushes To Safe Havens As World Stocks Rally
---
---
This is an abridged version of our Daily Report.
Hiding in safe havens
"Smart money" hedgers have established extreme positions in safe haven assets including gold, Treasuries, the yen and the VIX.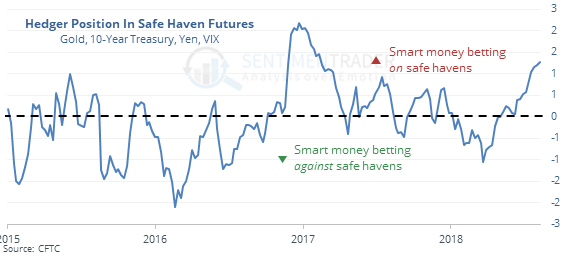 Other times they piled into the havens, it led to fine performance in stocks, and better returns in the havens themselves.
World stock resurgence
World stocks (excluding the U.S.) rallied five straight days from a 52-week low from last week. Similar rallies led to good short-term returns, but several medium-term failures.
Still apathetic
We saw in early August that the AIM Model was showing subdued sentiment surveys despite a rallying market. That has continued this week, as the model will only tick up to 42%.
Brazil's back to most-hated status
The Optimism Index on the EWZ fund is below 7, worst of all countries. When it's this low and the 10-day average is below 25, the fund has rebounded over the next week 73% of the time by an average of 3.6%.
F
or access to the full report, indicators, charts, screens, and Backtest Engine, log in or sign up for a free 30-day trial today.
Related Posts:
---
Tagged As:
The post titled Smart Money Rushes To Safe Havens As World Stocks Rally was originally published as on SentimenTrader.com on 2018-08-24.
At SentimenTrader.com, our service is not focused on market timing per se, but rather risk management. That may be a distinction without a difference, but it's how we approach the markets. We study signs that suggest it is time to raise or lower market exposure as a function of risk relative to probable reward. It is all about risk-adjusted expectations given existing evidence. Learn more about our service , research, models and indicators.
Follow us on Twitter for up to the minute analysis of market action.
Follow @sentimentrader