Smart Money Is Betting On The "Gundlach Ratio"
---
---
Smart money is betting on the Gundlach Ratio to predict a rise in interest rates, and micro-cap stocks are breaking out.
Smart money's bet on 'Gundlach Ratio'
Respected bond fund manager Jeffrey Gundlach highlighted his use of a ratio of copper to gold to forecast the future path of interest rates.
Currently, smart money hedgers are net long copper while being heavily short gold, something which has led to gains in the copper/gold ratio...and interest rates going back nearly 20 years.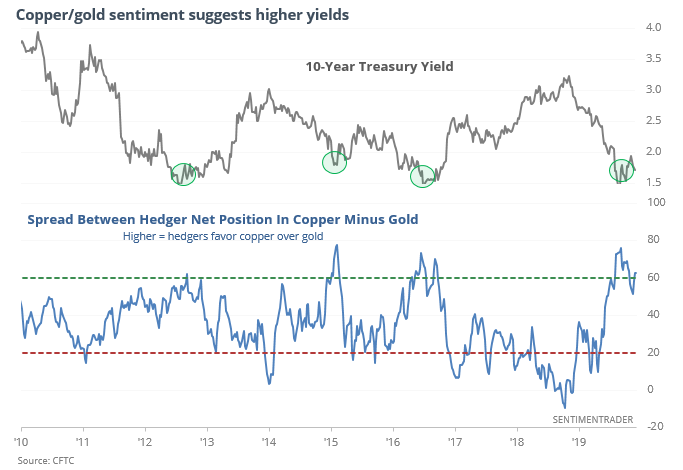 For other assets, it has preceded mostly positive returns for stocks, lower prices for the U.S. dollar, and a higher level in the ratio of copper to gold.
Small- Micro-caps

As Dan Russo noted, the Russell Microcap Index (total return) has broken out to the highest level since November 2018. This index tends to move inline with the Russell 2000, with the difference that it focuses on the smallest of small cap stocks.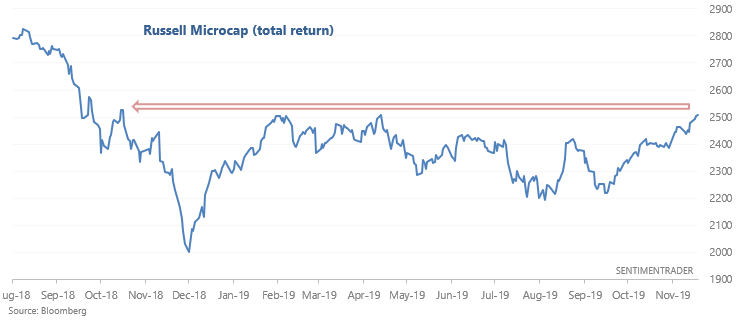 As is the case with most breakouts in the U.S. stock market, these micro-cap breakouts typically led to more gains in the coming months and year. The one exception was March 2015, when micro-caps broke out just as the U.S. stock market entered into a period of high volatility over the next 9 months.
For the broader market, the S&P 500 was lower a month later 3 times, but higher six months later 3 times.
This is an abridged version of our recent reports and notes. For immediate access with no obligation, sign up for a 30-day free trial now.
We also looked at:
A breakout in financial stocks reaching 52-week highs
Smart Money Confidence is curling higher from a low level
What happens when the U.S. dollar falls to a 100-day low
Eurozone economic growth expectations are picking up
Applying sentiment indicators to Nasdaq trading models

Related Posts:
---
Tagged As:
The post titled Smart Money Is Betting On The "Gundlach Ratio" was originally published as on SentimenTrader.com on 2019-12-12.
At SentimenTrader.com, our service is not focused on market timing per se, but rather risk management. That may be a distinction without a difference, but it's how we approach the markets. We study signs that suggest it is time to raise or lower market exposure as a function of risk relative to probable reward. It is all about risk-adjusted expectations given existing evidence. Learn more about our service , research, models and indicators.
Follow us on Twitter for up to the minute analysis of market action.
Follow @sentimentrader