Smart Money Index Influenced By ETFs as Investor Net Worth Hits New Low
---
---
This is an abridged version of our Daily Report.
The last hour conundrum
Somebody keeps selling into the close, and it's commonly assumed that it's large "smart money" traders. That concept worked in years past, but the proliferation of ETFs has thrown a wrench into it.
Using SPY volume, it's clear that the last hour has become the focus, as "dumb money" shifts from a.m. to p.m.
Investors' net worth plumbs new low
Margin debt grew in April, and cash has plunged as investors withdraw funds, leading to a new low in net worth. At the same time, an average of $440 million is riding on the average advancing stock, a heavy burden.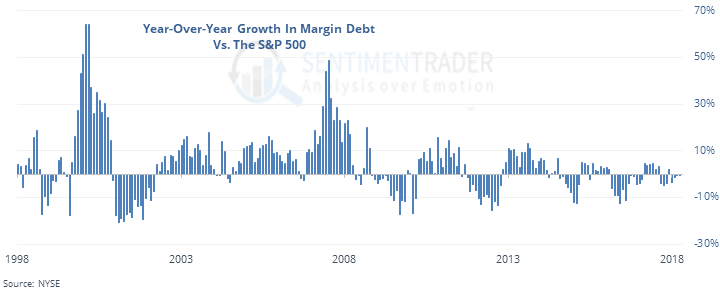 The lone positive is that debt isn't outpacing the growth in stocks, unlike 2000 and 2007.
It's tech's time
The Nasdaq 100 fund, QQQ, opened at a 5-day low and reversed hard enough to close at a 5-day high. This is not common, with only 6 precedents.
F
or access to the full report, indicators, charts, screens, and Backtest Engine, log in or sign up for a free 30-day trial today.
Related Posts:
---
Tagged As:
The post titled Smart Money Index Influenced By ETFs as Investor Net Worth Hits New Low was originally published as on SentimenTrader.com on 2018-05-24.
At SentimenTrader.com, our service is not focused on market timing per se, but rather risk management. That may be a distinction without a difference, but it's how we approach the markets. We study signs that suggest it is time to raise or lower market exposure as a function of risk relative to probable reward. It is all about risk-adjusted expectations given existing evidence. Learn more about our service , research, models and indicators.
Follow us on Twitter for up to the minute analysis of market action.
Follow @sentimentrader