Smart Money Drops As Traders And Economy Favor Dollar
---
---
This is an abridged version of our Daily Report.
Smart money collapse
Monday nearly saw a 20-year record decline in the Smart Money Index that compares first hour vs last hour trading. The past 30 days has consistent seen selling in the SMI, suggesting dumb money buying and smart money selling.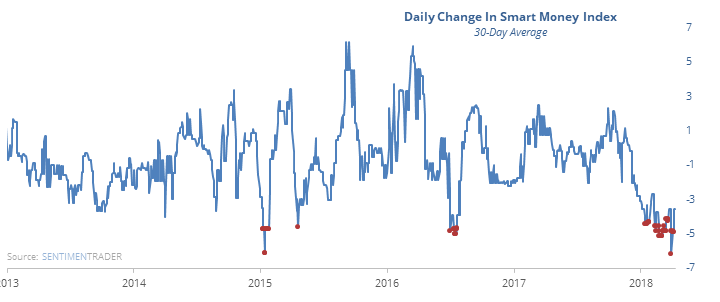 It's not quite that easy, and it's possible that what we're seeing is overall exhaustive selling pressure.
A long correction
During bull markets, corrections don't often last longer than 50 days, especially when the correction was large. The last two times a bull market correction hit 50 days and more than -10% were in 2000 and 2007. Historically, the next couple of months were strongly positive but not so much after that.
Bucking the euro
Economic surprises in the U.S. have been much stronger versus the eurozone. Perhaps because of that, smart money hedgers in the futures market are betting on a dollar rebound.

Similar setups were only marginally positive for the dollar but were exceedingly so for gold and oil.
Quite the reversal
The S&P 500 rallied more than 1.5% intraday but ended up opening and closing in the bottom 20% of its intraday range, a round-trip. With a rising 200-day average, that has happened only 10 times since 1982.
For access to the full report, indicators, charts, screens, and Backtest Engine, log in or sign up for a free 30-day trial today.
Related Posts:
---
Tagged As:
The post titled Smart Money Drops As Traders And Economy Favor Dollar was originally published as on SentimenTrader.com on 2018-04-10.
At SentimenTrader.com, our service is not focused on market timing per se, but rather risk management. That may be a distinction without a difference, but it's how we approach the markets. We study signs that suggest it is time to raise or lower market exposure as a function of risk relative to probable reward. It is all about risk-adjusted expectations given existing evidence. Learn more about our service , research, models and indicators.
Follow us on Twitter for up to the minute analysis of market action.
Follow @sentimentrader