Small Traders Buy Record Hedges Even As Financials Surge
---
---
Financial recovery
For the first time since early 2018, more than a quarter of financial stocks within the S&P 500 hit a 52-week high.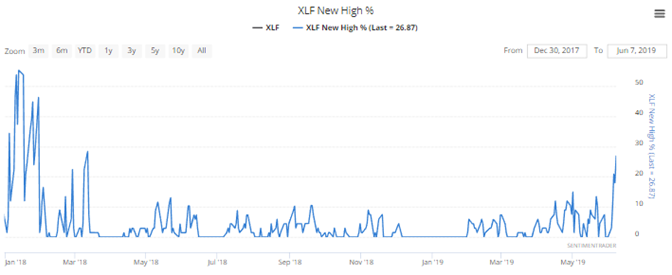 This kind of a surge has been good for the sector, with gains over the next year every time.
In 2000, this jump in new highs among financial stocks led to a 4% rally in the broader S&P 500 before it rolled over into a large loss a year later. Other than that, the signals led to mostly limited downside, while rallying at least 15% at some point during the next year.
Other sectors don't react as well to surges in new highs, especially defensive ones like staples and utilities.
Record hedges
Last week, small options traders bought to open more than 3 million protective puts. That's the first week ever with more than 3 million hedges, nearly 26% of their total volume.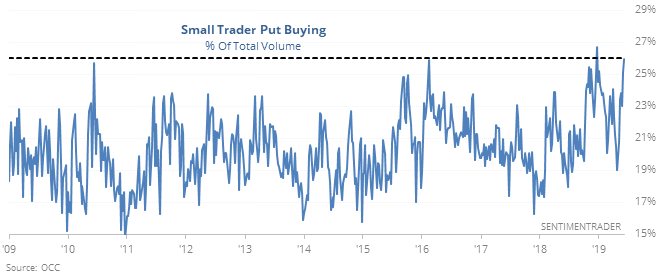 Since the financial crisis, they've spent this much on puts 3 times, all proving to be market lows.
Materials
Like staples and utilities, there was a surge in materials stocks last week. The McClellan Oscillator for the sector jumped above +100 for the first time since April. Over the past two years, an Oscillator reading this high has led to a peak in XLB every time, so bulls have to hope for a big change in the recent trend.
Nice streak
Gold finally dropped on Monday, ending its streak of 8 up days. Since 1975, 8-day winning streaks have led to more gains over the next three months 10 out of 11 times.
5 in a row
This is only the 3rd time since 1928 the S&P 500 rallied at least 0.45% for 5 straight days following a 50-day low. The others both led to gains of more than 22% during the next year.
This post was an abridged version of our previous day's Daily Report. For full access, sign up for a 30-day free trial now.

Related Posts:
---
Tagged As:
The post titled Small Traders Buy Record Hedges Even As Financials Surge was originally published as on SentimenTrader.com on 2019-06-11.
At SentimenTrader.com, our service is not focused on market timing per se, but rather risk management. That may be a distinction without a difference, but it's how we approach the markets. We study signs that suggest it is time to raise or lower market exposure as a function of risk relative to probable reward. It is all about risk-adjusted expectations given existing evidence. Learn more about our service , research, models and indicators.
Follow us on Twitter for up to the minute analysis of market action.
Follow @sentimentrader