Small stocks see big momentum
---
---
During October and November, we looked multiple times at the broadening of the rally, including historic thrusts of overwhelming buying interest. Those are the kinds of readings that can overwhelm sentiment extremes like we've recorded in recent weeks.
The improvement in some of these figures was due in large part to a renewal of interest in smaller stocks. The Cumulative Advance/Decline Line for the Russell 2000 is near a decade-long high thanks to the recent surge that also pushed its McClellan Summation Index above +500 for the first time since the beginning of the year.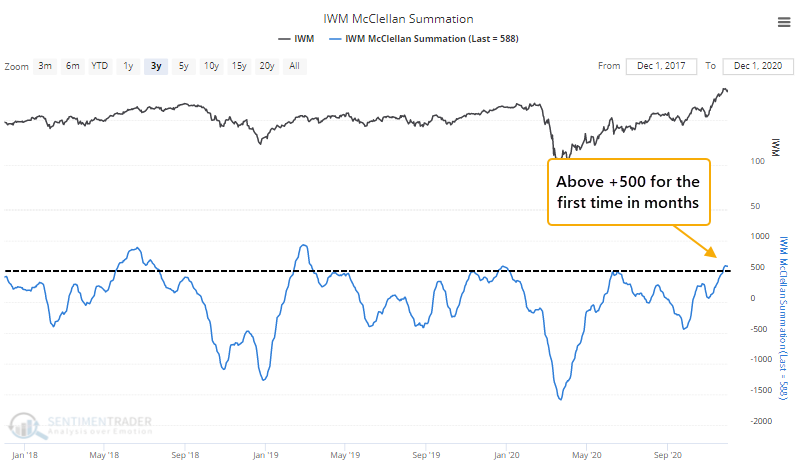 When its Summation Index moved above this threshold for the first time in more than 9 months, the Russell continued to gain every time over the ensuing 3 months, even after accounting for frequent shorter-term weakness.
---
What else is happening
These are topics we explored in our most recent research. For immediate access with no obligation, sign up for a 30-day free trial now.
Full returns in the Russell 2000 after its Summation Index crosses above +500 for the 1st time in months
Same for the energy sector, and foreign indexes like Brazil's Ibovespa and Mexico's MEXBOL
The Corporate Insider Buy/Sell Ratio has dropped
Insider velocity in industrial stocks is extremely negative
Option skew on XLI and XLE shows optimistic extremes
---
Stat Box

This week, 60% of the indicators we track moved to a level that indicates excessive optimism. That's the most since 2004, when fewer indicators were tracked. At the same time, a measure of confidence among trend-following traders shows that they are 89% confident in a continued rally in stocks. That's the highest figure since we began calculating this measure on December 1, 1998.
---
Sentiment from other perspectives
We don't necessarily agree with everything posted here - some of our work might directly contradict it - but it's often worth knowing what others are watching.
1. Put/call ratios are starting to go off the chart, at the bottom. Hedging activity via put options has dried up while call option volume has exploded to the highest on record. [Bloomberg]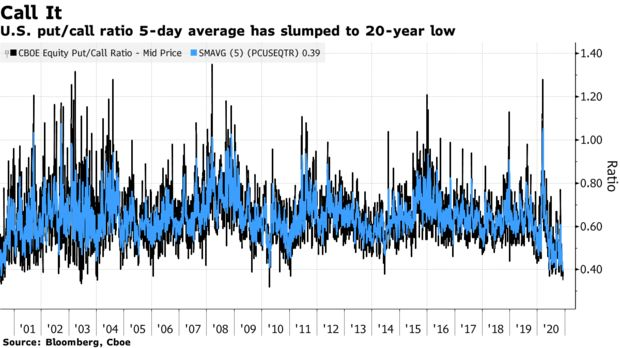 2. They don't have enough money to pay out their obligations, so pension funds have become heavily invested in the one asset class they think will help them make up the difference - stocks. [Biano Research]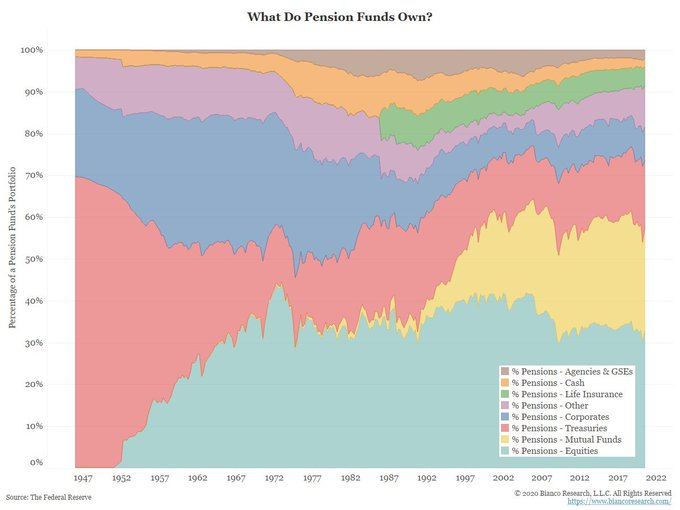 3. One place that pension funds - and pretty much everyone else, it seems - are not finding value is that most precious metal of all. Gold funds have bled assets for 4 consecutive weeks for the first time in over a year. [Bloomberg TV]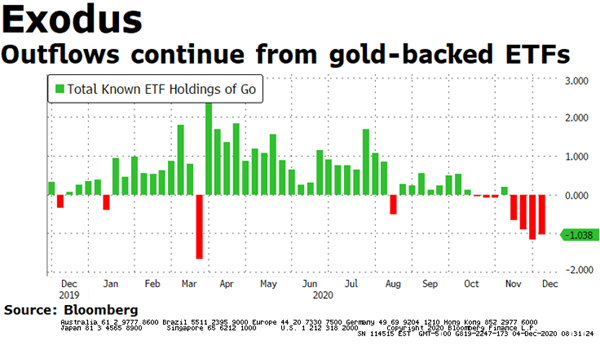 Related Posts:
---
Tagged As:
The post titled Small stocks see big momentum was originally published as on SentimenTrader.com on 2020-12-04.
At SentimenTrader.com, our service is not focused on market timing per se, but rather risk management. That may be a distinction without a difference, but it's how we approach the markets. We study signs that suggest it is time to raise or lower market exposure as a function of risk relative to probable reward. It is all about risk-adjusted expectations given existing evidence. Learn more about our service , research, models and indicators.
Follow us on Twitter for up to the minute analysis of market action.
Follow @sentimentrader