Small options traders bought this much protection only 3 times in 20 years
---
---
This is an abridged version of our recent reports and notes. For immediate access with no obligation, sign up for a 30-day free trial now.
Small traders being tested
The smallest of options traders keep buying a large amount of put options. Over the past 6 weeks, they've spent more than 24% of their volume on these protective hedges, which has been exceeded only a few times, all major market bottoms.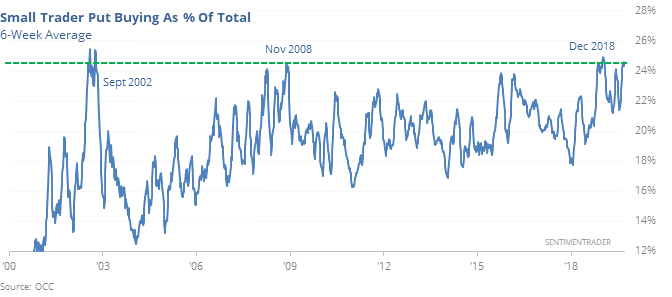 But this time is different, in that they're also buying quite a few speculative call options. Overall, their bias is slightly skeptical, which has led to better returns than if they were more enthusiastic.
Funds see rare inflow
Over the past two weeks, equity funds have seen rare inflows. Including both mutual funds and ETFs, the inflow hasn't been all that large, but enough to be the most in a year.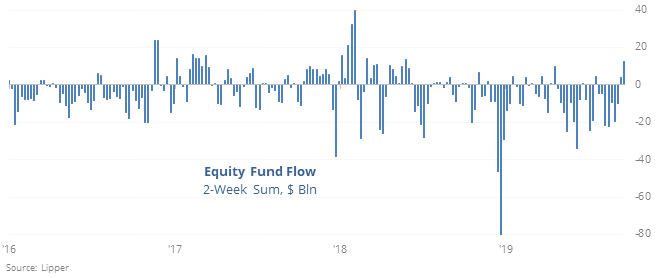 This tends to lead to mostly poor returns over the medium-term, but this is also one of the only times it comes after such a persistent period of outflows from the same funds. The other time it happened, stocks rallied hard in the months ahead.
Momentum streak
The McClellan Summation Index - a long term look at the momentum of the market's breadth - has been positive for 169 days. And with the McClellan Summation Index at 760 right now (solidly above zero), this streak is unlikely to end anytime soon.
When momentum lasted this long in the past, stocks showed low risk in the months ahead.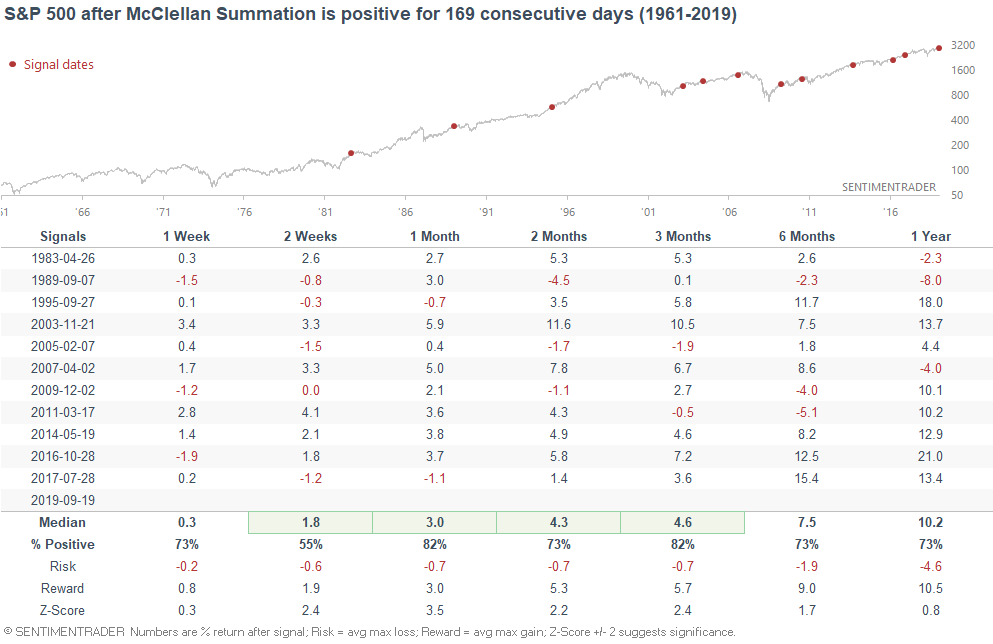 Economic Surprise
Economic data continue to beat analysts' expectations, causing the Citigroup Economic Surprise Index to rise to its highest level since early-2018. This is more due to analysts' depressed expectations than due to terrific economic data.
When the Surprise Index rose to a 200-day high during previous cycles, it boded well for stocks. But for the U.S. dollar, not so much.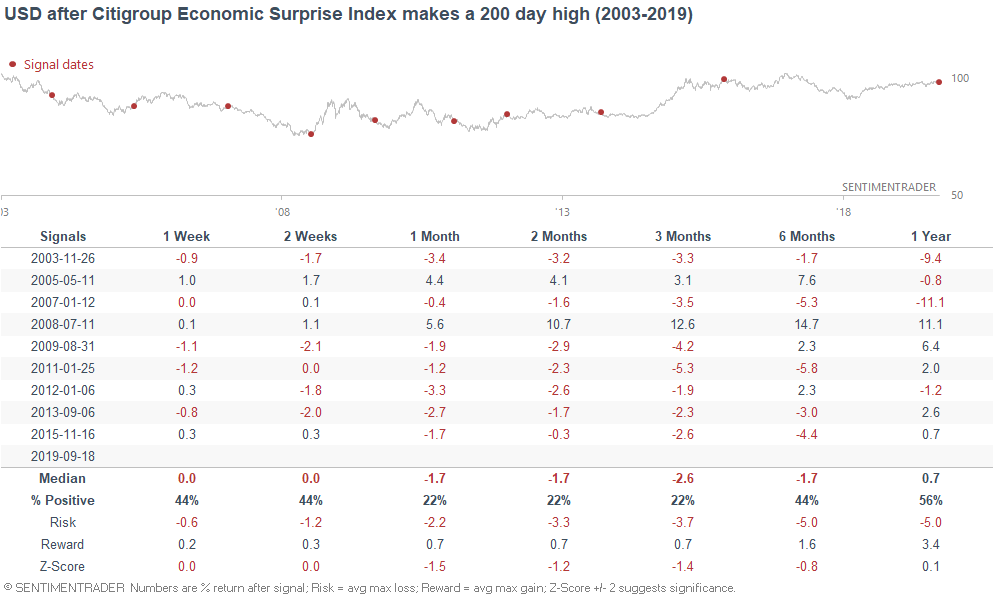 Related Posts:
---
Tagged As:
The post titled Small options traders bought this much protection only 3 times in 20 years was originally published as on SentimenTrader.com on 2019-09-24.
At SentimenTrader.com, our service is not focused on market timing per se, but rather risk management. That may be a distinction without a difference, but it's how we approach the markets. We study signs that suggest it is time to raise or lower market exposure as a function of risk relative to probable reward. It is all about risk-adjusted expectations given existing evidence. Learn more about our service , research, models and indicators.
Follow us on Twitter for up to the minute analysis of market action.
Follow @sentimentrader