Small options traders are in a frenzy
---
---
Small traders are pushing their luck in a major way.
At the peak of speculative fervor in February, the smallest of traders, with volume of 10 contracts or less, bought to open 7.5 million call options on equities. This past week, they blew past that by buying a stunning 12.1 million contracts. If we include ETFs in the figures, then it's about the same scale, jumping from 9.3 million call buys in February to 14.2 million contracts last week.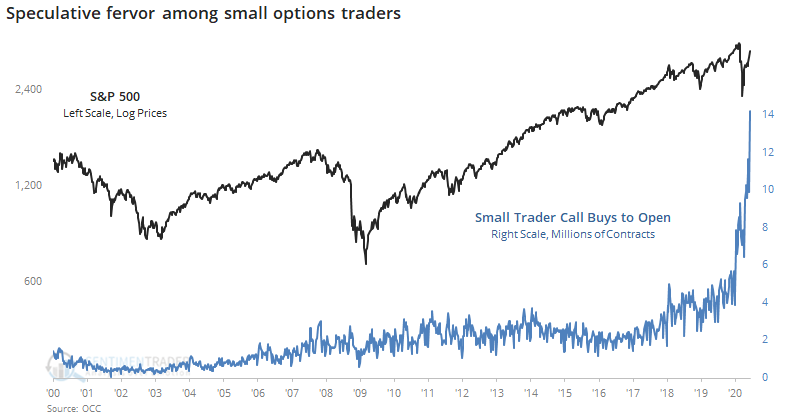 It's not just small traders. Pretty much everyone wants in on the party.
A completely fair question to ask is, "What about puts?" If traders are buying a lot of speculative calls, but also buying a lot of protective puts as a hedge, then maybe their overall position isn't that optimistic. That's not the case, in fact it becomes even more egregious.
Last week, they bought 14.2 million calls and 5.9 million puts for a net 8.3 million contracts, by far the most speculative skew in the past 20 years.
This is an abridged version of our recent reports and notes. For immediate access with no obligation, sign up for a 30-day free trial now.
We also looked at:
A more detailed look at options trader behavior last week, and what it means for stocks
Breadth has been exceptional, and cumulative advance/decline lines are breaking out to new highs
World stock markets are recovering from a massive drawdown
For one of the few times in history, we've seen back-to-back 90% up days
The Nasdaq new high / new low ratio is extremely high
A huge number of S&P 500 stocks are above their 50-day averages, above their Bollinger Bands, and overbought
Same goes for stocks worldwide

The post titled Small options traders are in a frenzy was originally published as on SentimenTrader.com on 2020-06-09.
At SentimenTrader.com, our service is not focused on market timing per se, but rather risk management. That may be a distinction without a difference, but it's how we approach the markets. We study signs that suggest it is time to raise or lower market exposure as a function of risk relative to probable reward. It is all about risk-adjusted expectations given existing evidence. Learn more about our service , research, models and indicators.
Follow us on Twitter for up to the minute analysis of market action.
Follow @sentimentrader