Small options traders are coming back
---
The "stocks only go up" mentality that caught fire in July turned into a raging inferno by the end of August, especially in names like Amazon and Tesla. That triggered warnings about what might happen once some of those options expired.
That preceded a nearly 12% drop in the Nasdaq 100 at its low point in September. While that served to wipe out some of the speculative fervor, it didn't completely destroy it. And now some of those traders are back for more.
Last week, the smallest of options traders spent 48% of their volume on buying to open speculative call options.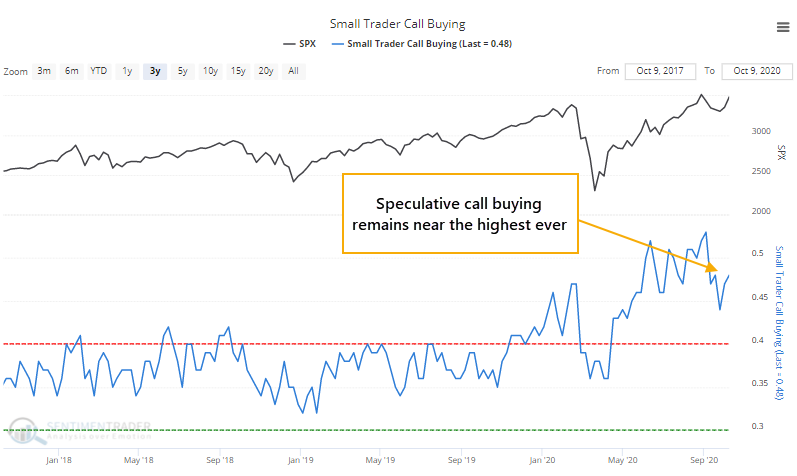 When we saw this behavior in August, it was especially worrying because there were consistent signs of trouble underlying the indexes.
We're most assuredly not seeing that now, as last week witnessed some of the best internal dynamics in months. So, that takes quite a lot of the bite out of the newest resurgence in speculative juices.
Still, as Bloomberg notes:
"Retail traders tend to buy less-expensive short-dated contracts, according to BTIG LLC, which tend to have greater convexity and ability to exacerbate share movements. But even with muted participation from individual investors, the dealer hedging pressure will still be "intense," according to BTIG's Julian Emanuel.
"The dealer positions continue to exert pressure in both directions," said Emanuel, the firm's chief equity strategist. "These moves are in all likelihood going to be slightly less gappy, because the public doesn't have as much interest in short-dated options, but that doesn't make them any less intense or any less back-and-forth.""
This is an abridged version of our recent reports and notes. For immediate access with no obligation, sign up for a 30-day free trial now.
We also looked at:
More detail on last week's options trading activity

Related Posts:
---
Tagged As:
The post titled Small options traders are coming back was originally published as on SentimenTrader.com on 2020-10-13.
At SentimenTrader.com, our service is not focused on market timing per se, but rather risk management. That may be a distinction without a difference, but it's how we approach the markets. We study signs that suggest it is time to raise or lower market exposure as a function of risk relative to probable reward. It is all about risk-adjusted expectations given existing evidence. Learn more about our service , research, models and indicators.
Follow us on Twitter for up to the minute analysis of market action.
Follow @sentimentrader