Small-Cap Stocks Haven't Run Like This Since 1995
---
---
With a flood of money combining with preternaturally calm conditions in the broader market, equity investors can't help themselves. Once again, buying interest was enough to push the S&P 500 to a record monthly close in May.
For the most widely-benchmarked index in the world, this was its 4th consecutive month with an all-time high. After the 18 other times it managed a feat like this since 1928, risk outweighed reward over the next six months only twice.
While they've settled back recently, part of the momentum has been due to a tremendous run in Small-Cap stocks, which just ended their 8th straight month with a positive total return, tied for the 5th-longest streak since 1926.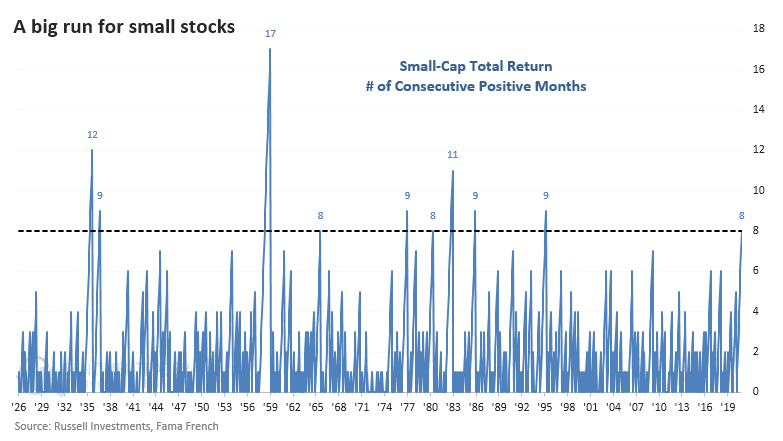 After other 8-month winning streaks, Small-Caps have tended to keep going, but there were some rough patches. A few times, they lost more than 10% over the next six months, though there was only one (very) large loss a year later.
Looking at the other end of the spectrum, the Dow Jones Industrial Average just celebrated its 125th anniversary by recording its 6th-largest gain over a 14-month stretch.
We've seen time and time again since last April that momentum does not die easily.

Stat Box



Over the past 3 months, individual investors in the AAII sentiment survey have allocated an average of more than 70% of their portfolios to stocks. According to our Backtest Engine, there have been 36 months since 1987 when the average has been this high. Over the next 3 years, the S&P 500 averaged a return of -5.5%.
What else we're looking at
Full returns in the S&P 500 after streaks with record monthly closes
What happens in small-cap stocks after rallying for 8 straight months
Since 1896, a look at the Dow's future returns following jumps of 50%
Why the dollar is about to enter an unfavorable period
An update on industry, sector, and country absolute and relative trends

The post titled Small-Cap Stocks Haven't Run Like This Since 1995 was originally published as on SentimenTrader.com on 2021-06-02.
At SentimenTrader.com, our service is not focused on market timing per se, but rather risk management. That may be a distinction without a difference, but it's how we approach the markets. We study signs that suggest it is time to raise or lower market exposure as a function of risk relative to probable reward. It is all about risk-adjusted expectations given existing evidence. Learn more about our service , research, models and indicators.
Follow us on Twitter for up to the minute analysis of market action.
Follow @sentimentrader