Small-cap stocks have rarely been this volatile (relatively)
---
---
Large-cap stocks, defined by the S&P 500, jumped to a record high on Friday. Other parts of the market, including small-caps, have been dragging.
Small-caps have a major influence on breadth statistics, a big reason why the S&P was meandering near an all-time high on Monday, yet breadth metrics were the worst in history.
Monday's activity was further evidence that volatility in those small-caps has jumped in recent weeks, even as the broader market stays relatively calm. Over the past 30 days, historical volatility in the Russell 2000 is now about 15 points higher than that for the S&P 500, one of the widest spreads in 40 years.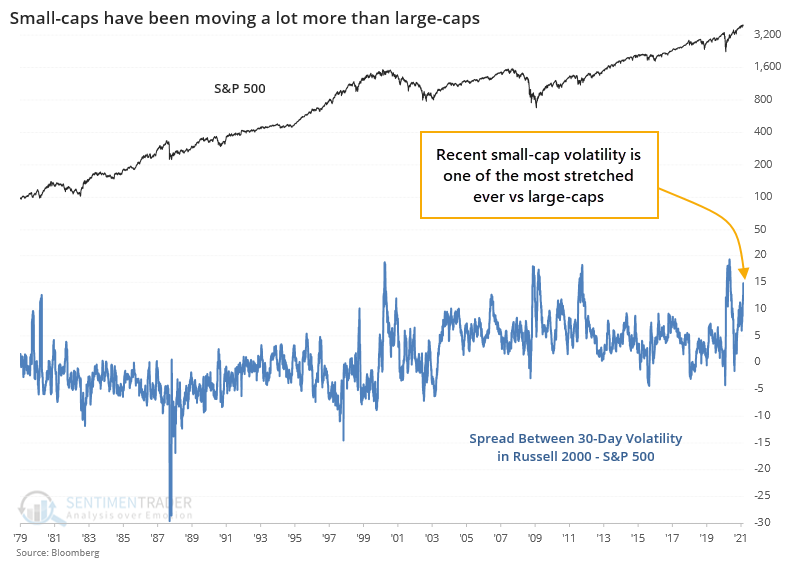 There aren't a whole lot of precedents for this kind of behavior since the inception of the Russell 2000 index. The handful of times that volatility between the two indexes reached the current level of extreme, the S&P didn't do so great going forward, excepting the last occurrence in the aftermath of the pandemic.
What else we're looking at
Detailed returns in the S&P, Russell, and the ratio between them, when the volatility spread was wide
A Risk On / Risk Off measure using the bond market has switched it signal for April
An update on a recent volatility signal shows an interesting return
The past 2 weeks have seen some unusual internal activity

Stat Box



Over the past

10

days, the S&P 500 has flirted with record highs, but the McClellan Oscillator has been negative all 10 days. Two-week stretches like this have happened 21 other times over the past 60 years.
Etcetera
A lot of yen bears. Sentiment on the Japanese yen has plunged in recent weeks. The Optimism Index on the currency is now at its 2nd-lowest point in the past 5 years.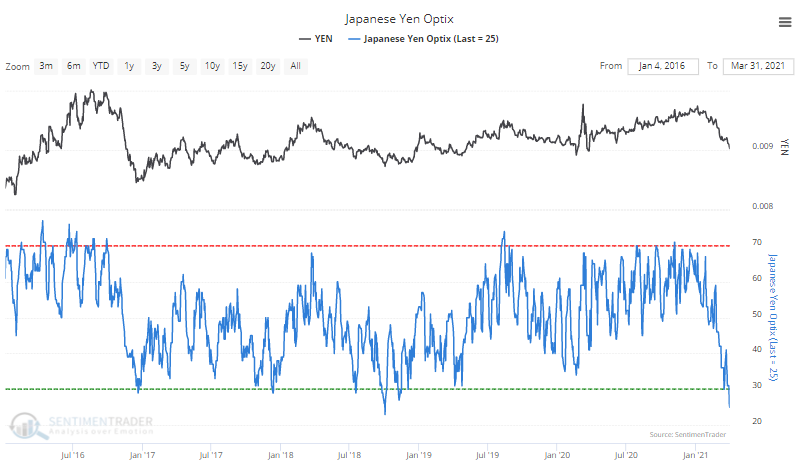 A month of tailwinds. Among 46 ETFs for which we track seasonal trends, only 2 of them - TLT and VXX - show a negative bias for April.

For most commodities, too. As we enter the new month, most currency and commodity futures also show a positive bias, among the most positive being commodity currencies like the Aussie and Canadian dollars.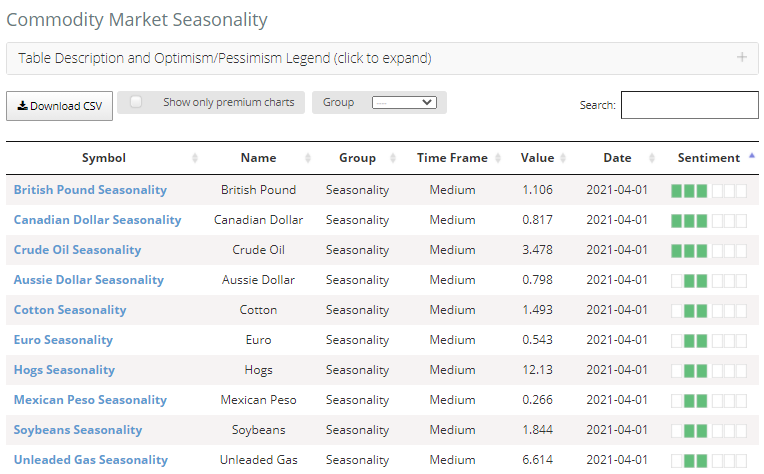 Related Posts:
---
Tagged As:
The post titled Small-cap stocks have rarely been this volatile (relatively) was originally published as on SentimenTrader.com on 2021-04-01.
At SentimenTrader.com, our service is not focused on market timing per se, but rather risk management. That may be a distinction without a difference, but it's how we approach the markets. We study signs that suggest it is time to raise or lower market exposure as a function of risk relative to probable reward. It is all about risk-adjusted expectations given existing evidence. Learn more about our service , research, models and indicators.
Follow us on Twitter for up to the minute analysis of market action.
Follow @sentimentrader