Slowing GDP As Survey Sentiment Rebounds During A Nice Couple Of Months
---
---
Slowing growth
The GDP release relieved some investors by being better than feared. But forecasts show that growth this quarter is likely to be the lowest in 8 quarters.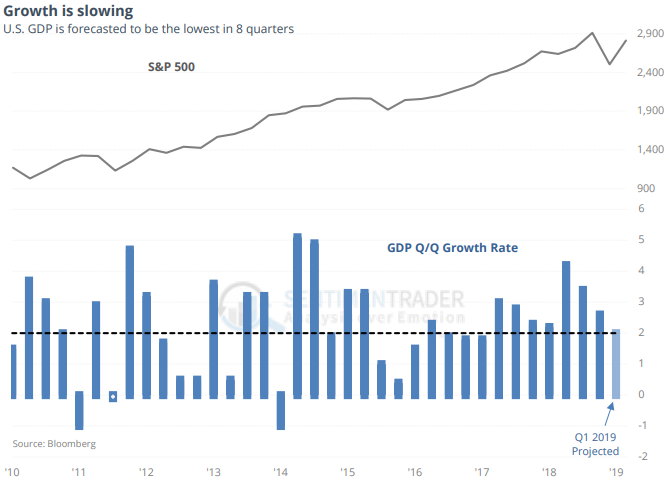 Like we've seen during past studies looking at economic or earnings recessions, the hype doesn't often translate to forward returns. Looking at other times when stocks rallied into lower GDP growth, any worries seem over-hyped as future returns were fine.
Back to bullish
In late December, the AIM Model of surveys collapsed to the most extreme level of pessimism possible. Now that stocks have rallied like they have after other times the model fell to 0%, it is back above 75%.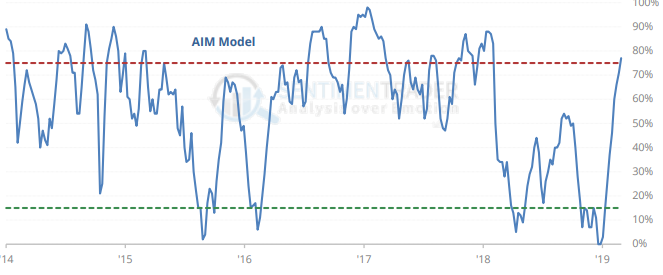 That's a quick turnaround for what tends to be a slower-moving reflection of sentiment.
A nice couple of months
The momentum we're seeing now is a good sign, and much is being made that this is the "best two months to start a year since…". When both January and February showed a gain, the S&P did tend to continue rising over the next 10 months. But other two-month combinations showed much better returns than Jan-Feb, suggesting the calendar isn't that big of a deal.
Good start
The S&P 500 isn't the only market with a good start to the year. It was the best ever for crude oil. Other good starts saw gains in early March almost every time and was mixed after that. Other markets struggled, especially emerging markets.
Few bears
The AAII survey shows only 20% bears this week. Per the Backtest Engine, this tended to lead to poor returns in HYG.
This post was an abridged version of our previous day's Daily Report. For full access, sign up for a 30-day free trial now.

Related Posts:
---
Tagged As:
The post titled Slowing GDP As Survey Sentiment Rebounds During A Nice Couple Of Months was originally published as on SentimenTrader.com on 2019-03-01.
At SentimenTrader.com, our service is not focused on market timing per se, but rather risk management. That may be a distinction without a difference, but it's how we approach the markets. We study signs that suggest it is time to raise or lower market exposure as a function of risk relative to probable reward. It is all about risk-adjusted expectations given existing evidence. Learn more about our service , research, models and indicators.
Follow us on Twitter for up to the minute analysis of market action.
Follow @sentimentrader