Signs of a thaw in the crisis
---
---
Looking for a thaw in the crisis
Because equities make up the bulk of most investors' allocation, they get most of the attention, as they should. And most use the S&P 500 as the benchmark against which their allocation is measured, which also makes sense. That's why we spend most of our time using that particular index and its components.
The last few weeks have caused a tsunami of volatility, but not just in stocks. We've already looked at how it has caused a rift across bonds, currencies and commodities.
As stocks try to recover, perhaps we can look beyond the usual equity metrics and see if there are any signs that this recovery is for real. The most compelling development so far is the buying thrust from last week, and the bigger-than-usual retracement of the decline.
Because the news flow has been so horrid, and most of us have to actively seek out good news, it would make sense to see stocks that have been struck hard by the virus continue to struggle. If those stocks rebound harder than the market - while those stocks enjoying a panic bump start to peak - then it would also indicate that fear is ebbing.
Not much sign of that yet. Stocks hit hard by the virus are continuing to lag. It seems crass to talk about stocks benefiting from this disaster, but some truly have, and they're not showing much sign of letting up yet.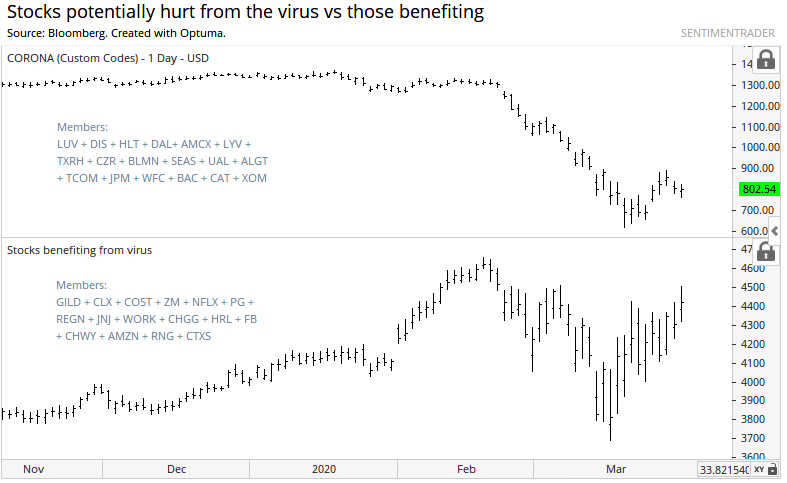 If this rally is for real, we should see more of a reversal between these two groups of stocks.
When we take a look at other indicators covering various markets, we can see that there is still not a solid sign of a recovery from the panic.
Stocks with buy signals
Last week we started pointing out that an extremely large percentage of stocks have triggered MACD buy signals over the past 10 days, which is a bullish sign for stocks. That figure in many countries has now shattered historical records and is at an all-time high. This is certainly one for the history books.
For example, more than 88% of S&P 500 stocks have now triggered buy signals. This is by a far a record, shattering anything we saw at the 2002, 2008-2009, 2011, and 2018 market bottoms.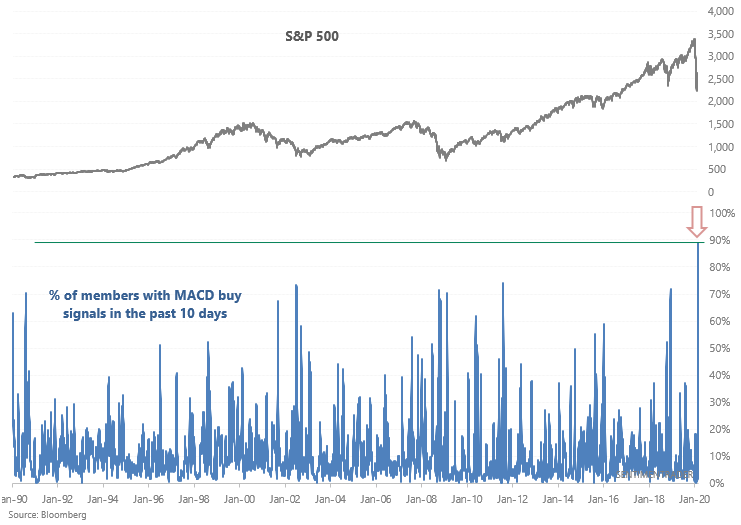 It's also true for other indexes we're looking at, both in the U.S. and overseas, and they all have impressive and compelling precedents. For more information on the MACD, see this post.
This is an abridged version of our recent reports and notes. For immediate access with no obligation, sign up for a 30-day free trial now.
We also looked at:
Many other indicators of a potential thaw in the crisis, like correlations, news flow, and credit trends
The S&P suffered a Death Cross - we look at historical similarities, as well as across sectors and stocks
A more in-depth look at some of the MACD buy signals
The stock/bond ratio is bouncing back
Margin debt keeps dropping

Related Posts:
---
Tagged As:
The post titled Signs of a thaw in the crisis was originally published as on SentimenTrader.com on 2020-03-31.
At SentimenTrader.com, our service is not focused on market timing per se, but rather risk management. That may be a distinction without a difference, but it's how we approach the markets. We study signs that suggest it is time to raise or lower market exposure as a function of risk relative to probable reward. It is all about risk-adjusted expectations given existing evidence. Learn more about our service , research, models and indicators.
Follow us on Twitter for up to the minute analysis of market action.
Follow @sentimentrader