Shorts have left the market
---
---
As stocks have enjoyed a relentless rally, those who sell stocks short hoping to buy them back later at a lower price have fled.
According to Business Insider, investors haven't been this bullish on the stock market in at least 15 years.
"In a note published on Thursday, Goldman Sachs highlighted that short interest in the S&P 500 has fallen to its lowest level in at least 15 years of its 16-year data history. The decline in short interest comes as stocks cruise to record highs after recovering from the fastest bear market on record...The median stock within the S&P 500 had outstanding short interest equating to just 1.8% of its market cap, Goldman said."
As a result, short interest among all NYSE securities has plunged. Short interest reflects the number of shares currently held short, needing to be bought back at a later date. After many years of rising short interest leading into the financial crisis, overall short interest levels have held relatively steady during the past decade.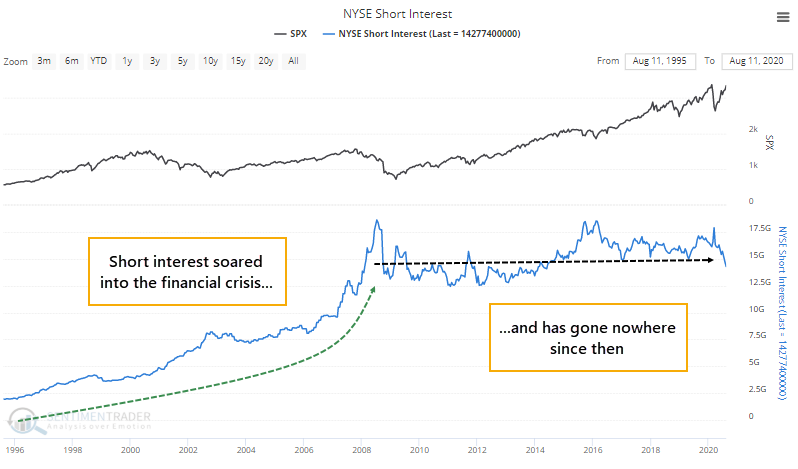 Because short interest can be "trendy" over time, we de-trend it. The S&P 500's annualized return when short interest is above trend is +9.2%. When short interest is below trend, as it is now, that falls to +0.6%.
Among major sectors, only energy and health care are seeing short interest as a percentage of float on the upper ends of their ranges, according to Bloomberg calculations.
This is an abridged version of our recent reports and notes. For immediate access with no obligation, sign up for a 30-day free trial now.
We also looked at:
S&P 500 returns after de-trended short interest falls 10% below trend
Short interest as % of float for major sectors
The Russell 3000 stocks with the highest, and lowest, short interest
What happens when the U.S. dollar first falls into a correction (and gold, and stocks)
Dollar sentiment is very low over a 50-day window
Future returns when speculators are heavily short a lot of the dollar's open interest
What happens when the dollar moves so closely with real 10-year interest rates
Manufacturing indexes have rebounded sharply

Related Posts:
---
Tagged As:
The post titled Shorts have left the market was originally published as on SentimenTrader.com on 2020-09-02.
At SentimenTrader.com, our service is not focused on market timing per se, but rather risk management. That may be a distinction without a difference, but it's how we approach the markets. We study signs that suggest it is time to raise or lower market exposure as a function of risk relative to probable reward. It is all about risk-adjusted expectations given existing evidence. Learn more about our service , research, models and indicators.
Follow us on Twitter for up to the minute analysis of market action.
Follow @sentimentrader