Shorts have left the market
---
---
The big topic over the past week has been short interest. By the sounds of mainstream media, there's a massive build-up of shares that greedy hedge funds have borrowed and sold, hoping to buy them back later at a lower price.
As usual, it's uninformed hyperbole. Short sellers provide an invaluable service to the investment world, and in any case, their thesis is completely wrong. In some stocks, there surely had been a huge build in the number of shares sold short.
In the average stock, not so much. The average stock across the S&P, Dow Industrials, Nasdaq 100, and Russell 2000 has just over 2% of its float sold short, a 17-year low.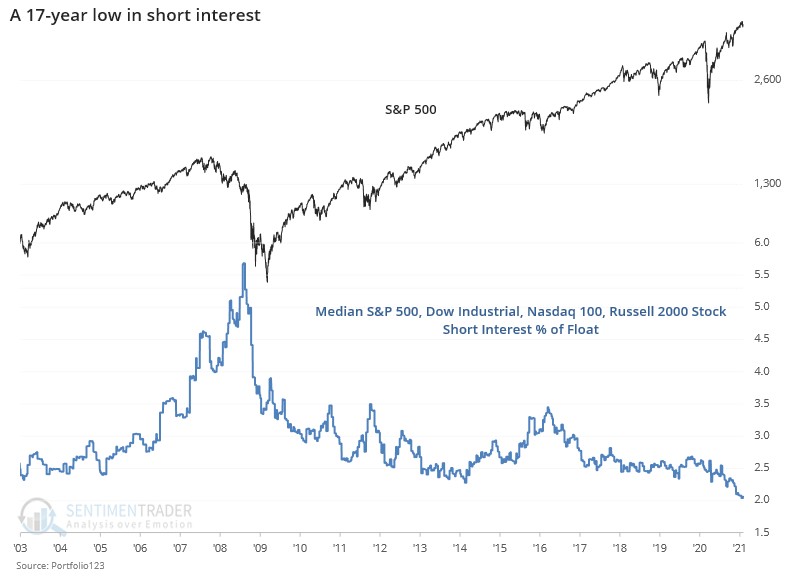 Across the broad NYSE universe, the Short Interest Ratio is near the lowest level in 20 years. Same for the Nasdaq exchange. Our de-trended look at short interest is near the lowest level in 70 years.
One of the main benefits of a healthy base of investors willing to sell short is that it helps to keep companies honest. Instead of the rah-rah "Great quarter, guys" from many analysts whose firms have investment banking relationships, shorts cast a skeptical eye and are willing to ask tougher questions.
Perhaps it's never been more important. As companies emerge from the chaos of last spring, many of them are still losing money. More than 7% of firms within the S&P 500 are showing negative operating earnings over the past 12 months, the highest percentage in over a decade.
What else we're looking at
A look at short interest as a % of float in the S&P 500 since 1999
A long-term look and historical performance when de-trended short interest is very low
The percentage of companies in the S&P 500 (and other major indexes) that have lost money over the past year
Money-losing IPOs account for a near-record percentage of issues
How to implement a bear put strategy
What happens when newsletters start to turn cautious even though stocks are strong

Stat Box



The VIX "fear gauge" has dropped more than

8%

for 3 consecutive sessions, but it's still elevated above 20. That's only happened twice before, in the past 30 years. Those were in August 1990 and August 2015.
Sentiment from other perspectives
At least some investors are worried. A peculiar survey of institutional investors shows that they're the least optimistic on stocks' future returns in at least 20 years. Source: Yale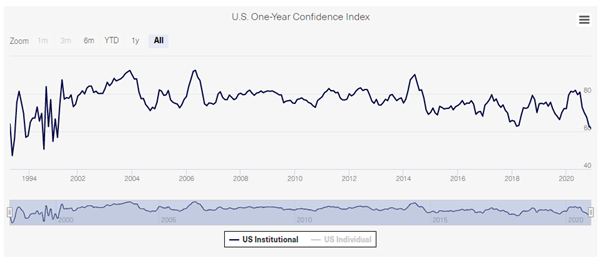 World stocks are underperforming. Yesterday, we showed that few stocks in the S&P 500 have been able to beat the index over a 12-month period. It's not just the U.S. - the same phenomenon can be seen worldwide. Source: Julien Bittel of Pictet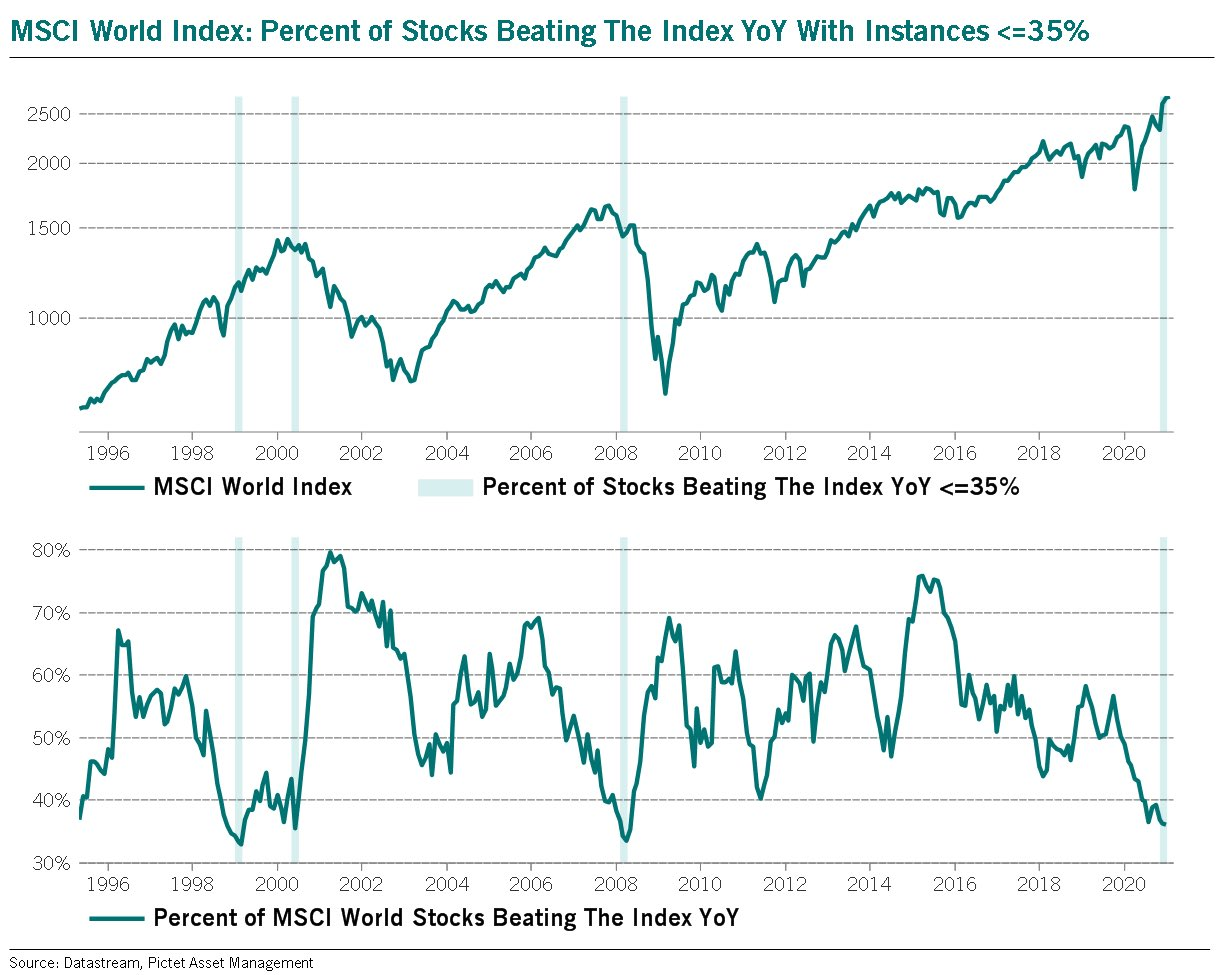 Individuals are getting cautious, too. At least, if you want to believe that a relatively small sample of relatively old folks is an accurate measure of "sentiment." The AAII survey is showing a consistent leak in the percentage of bullish investors. Source: AAII via Helene Meisler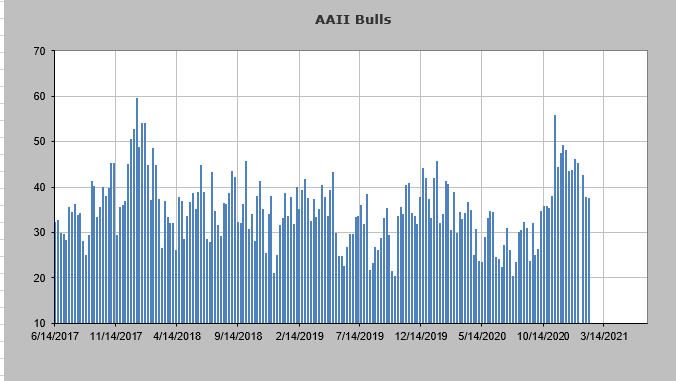 Related Posts:
---
Tagged As:
The post titled Shorts have left the market was originally published as on SentimenTrader.com on 2021-02-04.
At SentimenTrader.com, our service is not focused on market timing per se, but rather risk management. That may be a distinction without a difference, but it's how we approach the markets. We study signs that suggest it is time to raise or lower market exposure as a function of risk relative to probable reward. It is all about risk-adjusted expectations given existing evidence. Learn more about our service , research, models and indicators.
Follow us on Twitter for up to the minute analysis of market action.
Follow @sentimentrader