The selling pressure in Chinese shares has been relentless in January and shows no signs of letting up as the Shanghai Composite dives to yet another yearly low.
There is not a consistent relationship between that index and U.S. stocks. It's a fascination among many market-watchers but share performance in China has been a poor predictor for share performance in other markets.
Breadth figures for stocks in the Shanghai are starting to reach "puke" levels according to several measures. One holdout is the percentage of stocks in the index that are sitting at 52-week lows. It reached 29% on Wednesday while prior peaks in that measure were north of 50% - 60%.
But if we look at the shorter-term persistence of the selling pressure, this month stands out.
On an average day this month, 43% of stocks in the Shanghai closed at a 4-week low. That's tied for a record for any month since 2002, the furthest we can go back. January 2002 had a similar stretch.
Also on an average day this month, 30% of the stocks closed at a 12-week low. That's the third-highest of any month since 2002.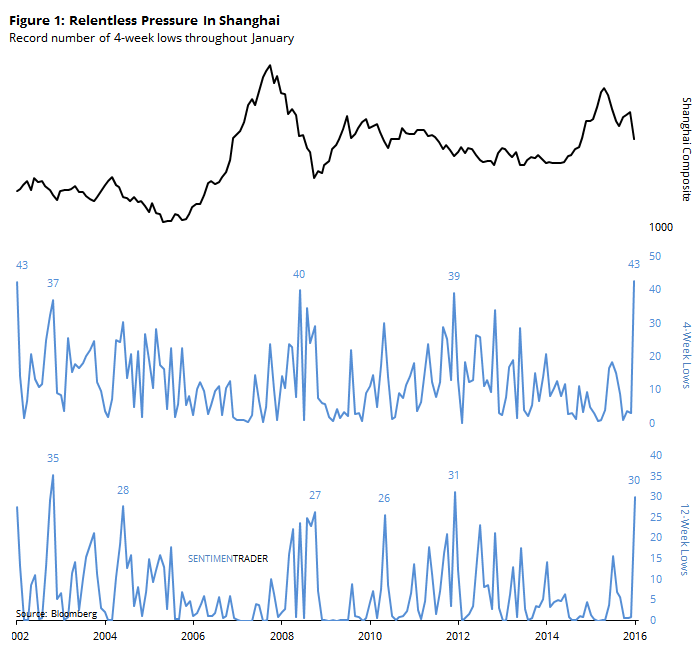 Looking at both figures combined, there were only two months that approached our current level of persistent 4-week and 12-week lows, November 2002 and December 2011.
After November 2002, the Shanghai lost another -5% in December, but was 5% higher three months later and 10% higher six months later.
After December 2011, the Shanghai gained 4% the next month but that was about it as the gains petered out in the months ahead.
The relentless nature of this decline has reached climactic levels, at least on a shorter-term basis, but is not yet to a level that would suggest a long-term disgust like occurred at prior long-term lows.
---