Sentiment is starting to turn
---
---
Sentiment turns
Even though stocks remain volatile with no sign of a bottom, sentiment has started to turn. The spread between Smart Money and Dumb Money Confidence has curled down from a near-record high and hasn't set a new extreme for a week.
This is almost exactly the opposite of what we looked at in early February, when sentiment was turning from extremely optimistic conditions.



Forward returns after similar turns since 1998 were good, and while there were some medium-term losses, they were mostly muted, with small risk relative to reward. These were only short- to medium-term indications, though, and not necessarily a sign that long-term risk was low.
Historic crash
The S&P 500 crashed more than -22% over the past 2 weeks, one of the worst 2 week crashes on record. Similarly, this is one of the worst 2 week crashes for commodities (CRB Index).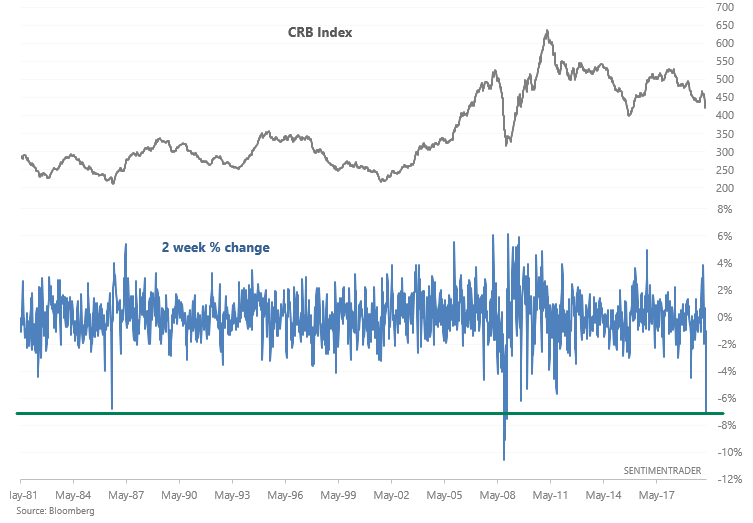 The few historical cases saw the CRB Index rally significantly over the next year.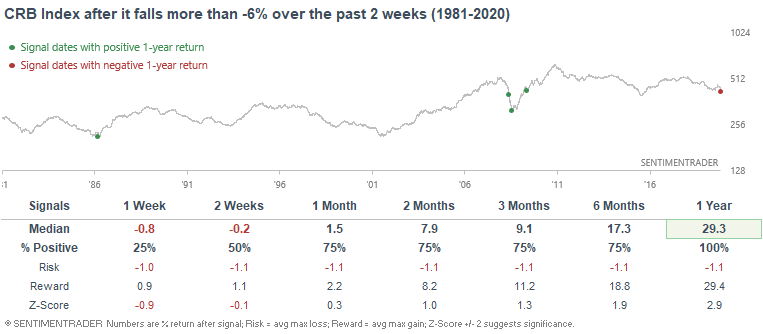 This is an abridged version of our recent reports and notes. For immediate access with no obligation, sign up for a 30-day free trial now.
We also looked at:
What sectors lead out of a "true" bottom vs a "false" one
Friday's selling pressure had the hallmarks of a liquidation event
Valuations have changed a lot in a very short amount of time
Looking at the largest 2-week drops across markets
10-day volatility is nearing absurd levels

The post titled Sentiment is starting to turn was originally published as on SentimenTrader.com on 2020-03-23.
At SentimenTrader.com, our service is not focused on market timing per se, but rather risk management. That may be a distinction without a difference, but it's how we approach the markets. We study signs that suggest it is time to raise or lower market exposure as a function of risk relative to probable reward. It is all about risk-adjusted expectations given existing evidence. Learn more about our service , research, models and indicators.
Follow us on Twitter for up to the minute analysis of market action.
Follow @sentimentrader