Safe haven sentiment has soured
---
---
On our Market Overview Dashboard, one thing sticks out in recent days - sentiment on stocks has stayed stubbornly high while it has soured markedly on bonds and gold.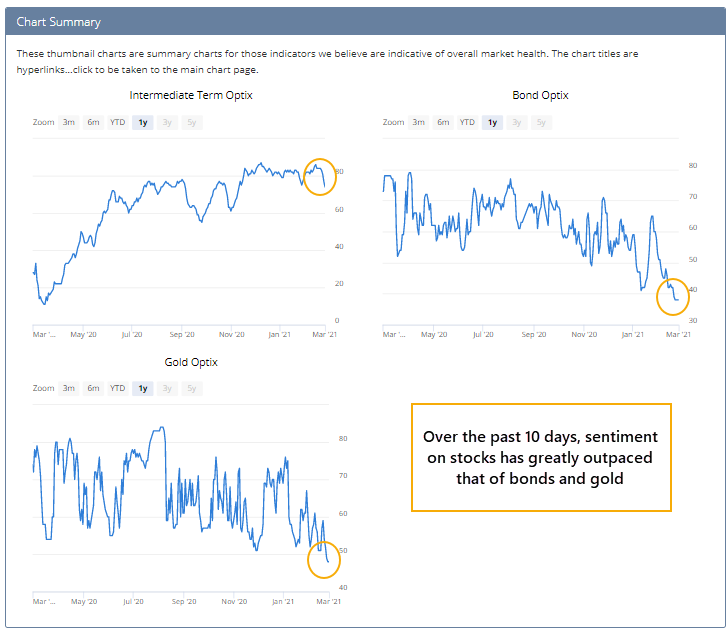 At various times over the years, we've looked at similar bouts of relative sentiment extremes between stocks and supposed safe havens like bonds and gold. This one sticks out as being among the most severe.
Over the past 10 days, the Medium-Term Optimism Index (Optix) for stocks has been more than 35 points above the average Optix for bonds and gold. This is the widest spread in 4 years. When the spread has been above +30 points, the S&P's annualized return was -13.8%, versus +35.2% when the spread was below -30.
If we take a signal-based approach and buy the S&P when the spread first crosses above +30 for the first time in a couple of weeks, then we see that over the next 1-6 months, stocks consistently underperformed bonds and (especially) gold.
What else we're looking at
Full returns in the S&P 500 after optimism is so high versus safe havens like bonds and gold
Returns in the ratio between the S&P 500 and 10-year Treasuries and between the S&P and gold
Taking a closer look at post-presidential seasonal patterns
What happens when ETF traders flee gold funds for 12 straight days

Stat Box



Across all funds, gold ETFs have seen outflows for

13

consecutive days. That's tied for the 7th-longest streak of outflows in the past 15 years.
Sentiment from other perspectives
Young and lucky. The youngest, least experienced investors are the most likely to use their stimulus payments to gamble on stocks, using leverage, with ideas generated from social media. Source: Deutsche Bank via Daily Shot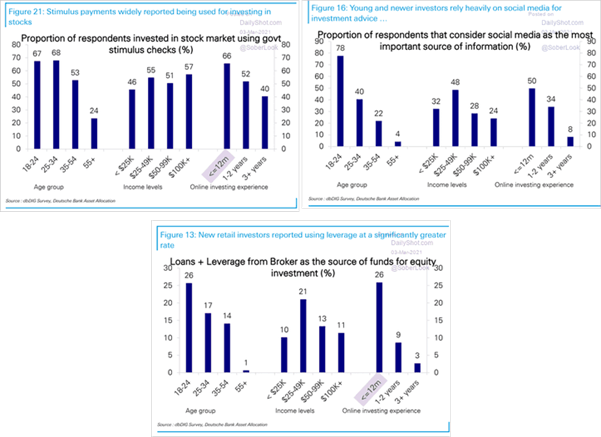 Easy money everywhere. Yesterday, we saw that traders were taking on margin debt in China as well as the U.S. And the boom in IPOs isn't just a U.S. phenomenon, either. Offerings have been skyrocketing across the pond. Source: Bloomberg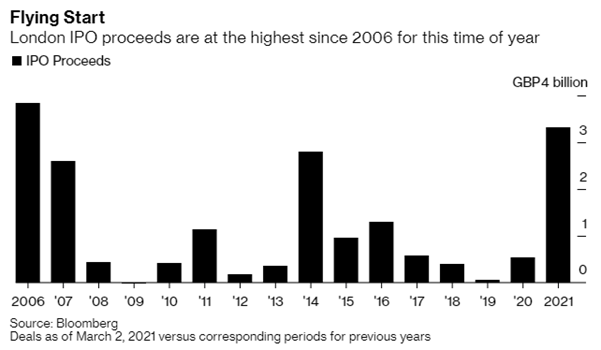 Speaking of China. Margin debt is rising, and like in London and the U.S., bankers are pushing a decade high amount of new stock onto willing investors. Source: Fritz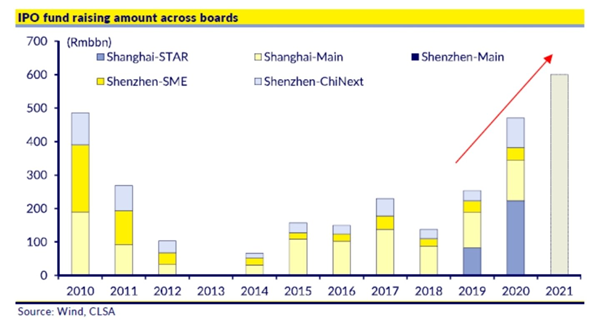 Related Posts:
---
Tagged As:
The post titled Safe haven sentiment has soured was originally published as on SentimenTrader.com on 2021-03-04.
At SentimenTrader.com, our service is not focused on market timing per se, but rather risk management. That may be a distinction without a difference, but it's how we approach the markets. We study signs that suggest it is time to raise or lower market exposure as a function of risk relative to probable reward. It is all about risk-adjusted expectations given existing evidence. Learn more about our service , research, models and indicators.
Follow us on Twitter for up to the minute analysis of market action.
Follow @sentimentrader