Russell's Failed Rally With A Yield Curve Warning
---
---
Bear pattern
The Russell 2000 rallied for almost two weeks, then failed on Friday and set a lower low. That triggered a classic failed bear market rally attempt.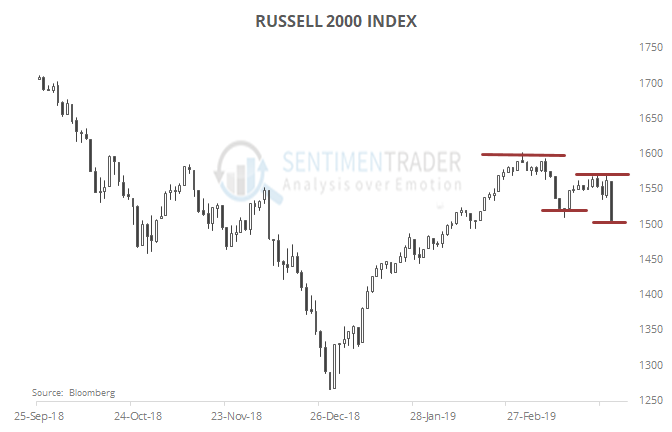 Historically, that hasn't meant much in the shorter-term, but over the medium- to long-term, risk tended to be higher than reward. These were not slam-dunk sell signals, especially in the shorter-term. Up to a month later, the Russell's average return was higher than a random return. But by two months later, it turned sour.
Curve worries
There is no shortage of warnings following the inversion of the yield curve last week. One of the direst is from Dr. John Hussman, with a signal suggesting an imminent decline.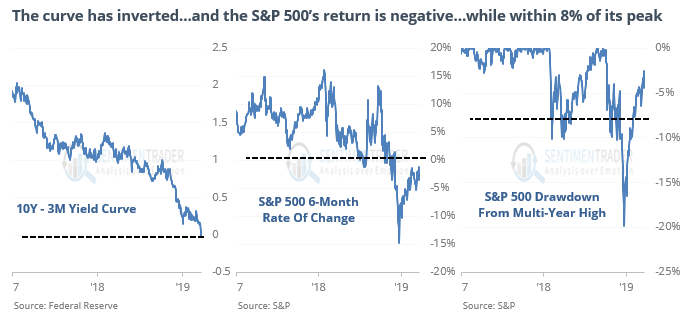 Using his conditions, the signals were highly negative for stocks over the next 9-12 months, but the signal was not robust. Even a slight modification of the rules drastically changed some of the outcomes.
Confident traders
The smallest of options traders spent 39% of their volume buying speculative call options last week. According to the Backtest Engine, a reading that high since the financial crisis led to an average return of -2.3% in the S&P 500 over the next three months.
Lotsa bears
Nearly a third of S&P 500 stocks are still at least 20% below their peaks. There have been two other times since the financial crisis when more than 50% of them hit that bear market threshold. By the time the S&P rallied 20% off its low in 2012, only 18% of stocks were in bear markets. In 2016, only 12% were.
This post was an abridged version of our previous day's Daily Report. For full access, sign up for a 30-day free trial now.

Related Posts:
---
Tagged As:
The post titled Russell's Failed Rally With A Yield Curve Warning was originally published as on SentimenTrader.com on 2019-03-26.
At SentimenTrader.com, our service is not focused on market timing per se, but rather risk management. That may be a distinction without a difference, but it's how we approach the markets. We study signs that suggest it is time to raise or lower market exposure as a function of risk relative to probable reward. It is all about risk-adjusted expectations given existing evidence. Learn more about our service , research, models and indicators.
Follow us on Twitter for up to the minute analysis of market action.
Follow @sentimentrader