Robinhood traders are flocking to leveraged ETFs
---
---
With a massive spike in people staying at home, the cancellation of virtually every sport, and a shutdown in traditional gambling, there has been a mass movement to trading. Nobody personifies this more than the twitter account of Barstool Sports founder Dave Portnoy, perhaps the most destructive force for individuals' finances extant.
We've documented the rise in trading several times, especially the exponential growth in trades at retail brokerages and the historic volume of speculative options trading.
Another popular measure of this newfound love affair with trading is the growth in Robinhood accounts. Robinhood is "a pioneer of commission-free investing, gives you more ways to make your money work harder" and their user growth went exponential in March and April.
Using data from Robintrack, we can see that the number of users holding the most popular leveraged long ETFs has exploded.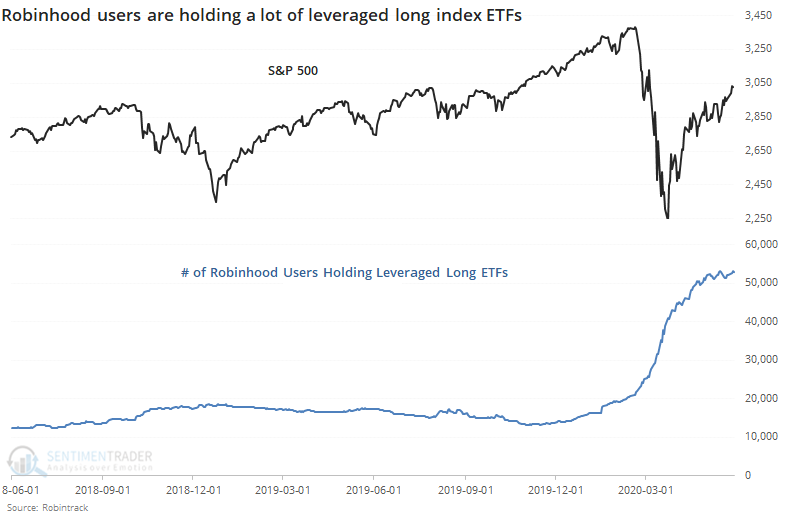 If we just stop there, we'd have to make the assumption that speculation is out of control. It would also be highly misleading since there has also been an explosion in users holding the most popular inverse ETFs. These are funds that rise when stocks fall.
When we look at the rates of change in users holding leveraged LONG funds versus those holding leveraged SHORT funds, we can get a more useful and balanced perspective.
In recent days, growth in accounts has been about equal between those holding long and short funds. It was skewed heavily toward long ETFs at the beginning of May but even though stocks have rallied since then, user growth has evened out.
This is an abridged version of our recent reports and notes. For immediate access with no obligation, sign up for a 30-day free trial now.
We also looked at:
A balanced look at user growth in leveraged ETF holdings among Robinhood accounts
The Farrell Sentiment indicator is suggesting investors are way too pessimistic
The "volatility of volatility" (VVIX) is falling
There has been a historic 2-month rally in bond ETFs
What happens when the Nasdaq enjoys a historic 2-month jump
Crude oil has rallied for 5 straight weeks...during a downtrend

The post titled Robinhood traders are flocking to leveraged ETFs was originally published as on SentimenTrader.com on 2020-06-01.
At SentimenTrader.com, our service is not focused on market timing per se, but rather risk management. That may be a distinction without a difference, but it's how we approach the markets. We study signs that suggest it is time to raise or lower market exposure as a function of risk relative to probable reward. It is all about risk-adjusted expectations given existing evidence. Learn more about our service , research, models and indicators.
Follow us on Twitter for up to the minute analysis of market action.
Follow @sentimentrader