Risk Appetite Storms Back, Shows Buy Signal
---
---
Investors are taking on risk again.
Our Risk On / Risk Off Indicator aggregates over 20 core indicators and assigns each one a binary risk-on or risk-off state. When the indicator line is red, it is in a 'Risk Off' state; when it's black, it is 'Risk On.'

We've created an aggregate risk measure based on these indicators. It simply calculates the percentage of indicators that are considered to be 'risk on.' Any reading over 50% shows a 'risk on' environment.
This aggregate dropped as stocks chopped over the past month but has pushed higher once again, showing increasing risk appetite among investors. Dean discussed a way to use this as a trading signal, looking for times when the risk on/off indicator was in the lower 5% of its range over the past four months and then rose to within 68.5% of its range, which triggered late last week.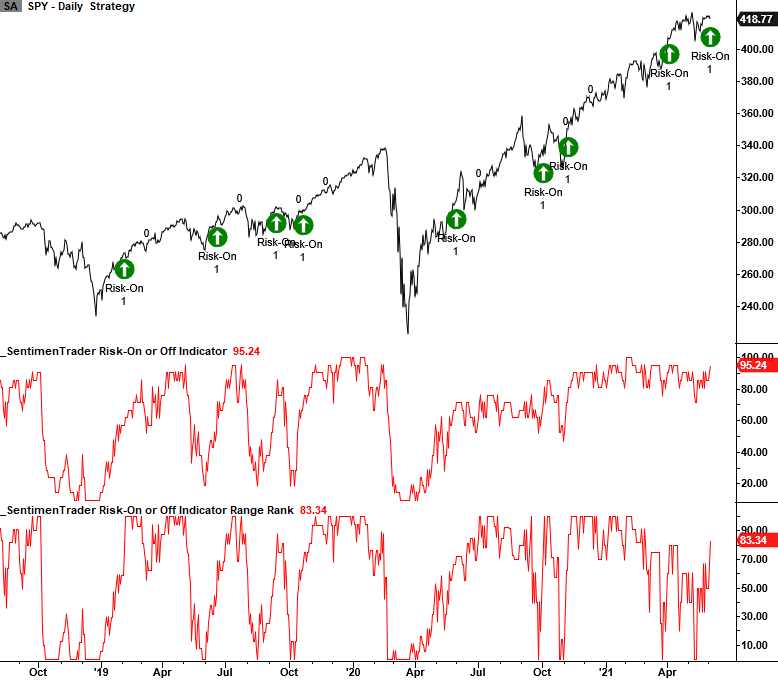 If we consider this a short-term buy signal and look at future returns in the S&P 500, the best performance was over the next 22 trading days. These showed 35 wins out of 45 trades with a profit factor of more than 3.6 to 1.

Stat Box



According to Bloomberg data, investors moved more than $3.1 billion into general commodity ETFs in May. That's nearly 3x the prior record monthly inflow over the past decade.
What else we're looking at
Full details following a buy signal in the risk aggregate model
Sector returns after a not-well-known inflation gauge triggers a warning sign

Related Posts:
---
Tagged As:
The post titled Risk Appetite Storms Back, Shows Buy Signal was originally published as on SentimenTrader.com on 2021-06-07.
At SentimenTrader.com, our service is not focused on market timing per se, but rather risk management. That may be a distinction without a difference, but it's how we approach the markets. We study signs that suggest it is time to raise or lower market exposure as a function of risk relative to probable reward. It is all about risk-adjusted expectations given existing evidence. Learn more about our service , research, models and indicators.
Follow us on Twitter for up to the minute analysis of market action.
Follow @sentimentrader