Responding to gold's run, investors flood in
---
---
Investors have been loving precious metals. Emerging markets not so much.
Both markets tend to move with the dollar, so it seems odd that investors would favor one so highly over the other. Generally, the correlations move together - if the dollar is influencing emerging markets, then it's usually influencing gold, too.
Even though both gold and emerging markets have been on a tear, so far this year precious metals funds have taken in more than $25 billion, a decade-long high.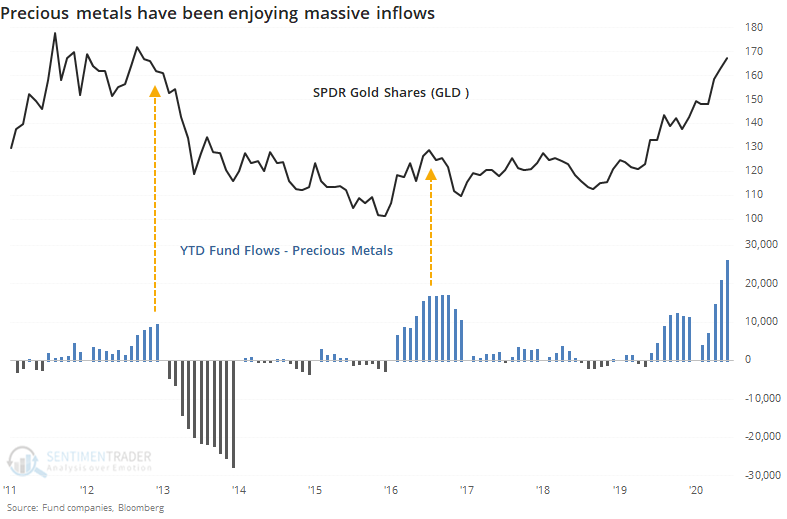 The flow into emerging markets is at a record low. Halfway through the year, the outflow from these funds has already surpassed the worst year-to-date flow from 2013.
The big question is whether it matters. The other times there was a large spread between flows into the two markets, the ratio of GLD to EEM fell back in the months ahead.
This is an abridged version of our recent reports and notes. For immediate access with no obligation, sign up for a 30-day free trial now.
We also looked at:
A look at flows out of emerging markets and the spread between them and precious metals
All equity funds have been suffering outflows for 4 straight weeks
A look at Bloomberg's Fear & Greed indicator on Chinese stocks, and copper
The Nasdaq 100 keeps outperforming the small-cap Russell 2000
The Nasdaq has rallied most of the past 30 days
The Optimism Index on internet stocks is the highest since 1999

The post titled Responding to gold's run, investors flood in was originally published as on SentimenTrader.com on 2020-07-13.
At SentimenTrader.com, our service is not focused on market timing per se, but rather risk management. That may be a distinction without a difference, but it's how we approach the markets. We study signs that suggest it is time to raise or lower market exposure as a function of risk relative to probable reward. It is all about risk-adjusted expectations given existing evidence. Learn more about our service , research, models and indicators.
Follow us on Twitter for up to the minute analysis of market action.
Follow @sentimentrader