Rallying In A Downtrend; Peak Earnings
---
---
This is an abridged version of our Daily Report.
Rallying in a downtrend
Stocks are revisiting the 200-day average, which is now sloping down.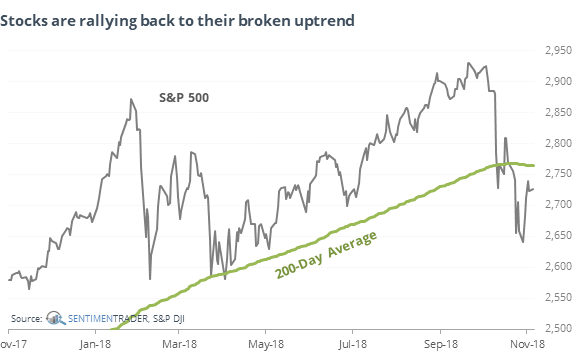 If we go back and look for times when the 200-day average was rising for at least three months, then turned lower and the S&P was below its average for at least two weeks, then we can see what happened when it then rallied back toward its average. We can see whether it acted as resistance and led to poor future returns.
It didn't, not really. At least not for a while.
While the S&P 500's returns are better when its above average than when it's below, the 200-day average doesn't serve as resistance, and short-term returns were fine. It was a bit of a longer-term concern, though.
Peak earnings
The earnings growth rate of S&P 500 companies has likely peaked for this cycle. That's always taken as a negative. If earnings aren't growing - and growing faster than they have been in recent quarters - then it's assumed that investor optimism will weaken accordingly, and stocks will decline to reflect those lowered growth expectations.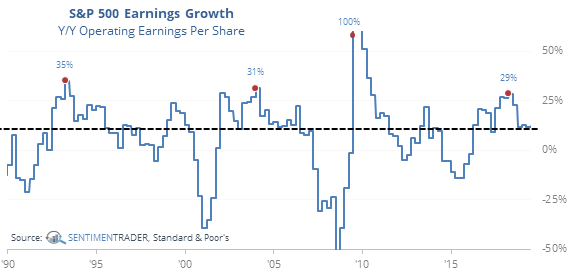 This can weigh on sentiment, as investors understand that future reports will likely not provide much of an "oomph." Prior peaks in the earnings growth rate has preceded weak shorter-term returns but not beyond six months.
Selling climax
Last week's drop and recovery triggered a bunch of selling climaxes in S&P 500 stocks. There were more than 60 of them in a single week, for the first time since January 2016. According to the Backtest Engine, there have been 11 similar weeks.
Fleeing Financials
ETF fund flows can be fickle, and we're seeing that now in Financials. More than $450 million left XLF on Friday. Over the past 9 years, the Backtest Engine shows that an outflow that large led to a rebound in XLF after 77% of the days.


Related Posts:
---
Tagged As:
The post titled Rallying In A Downtrend; Peak Earnings was originally published as on SentimenTrader.com on 2018-11-06.
At SentimenTrader.com, our service is not focused on market timing per se, but rather risk management. That may be a distinction without a difference, but it's how we approach the markets. We study signs that suggest it is time to raise or lower market exposure as a function of risk relative to probable reward. It is all about risk-adjusted expectations given existing evidence. Learn more about our service , research, models and indicators.
Follow us on Twitter for up to the minute analysis of market action.
Follow @sentimentrader