Quick Change In Character; Smart Money Steps In; Emerging Stocks Rebound
---
---
This is an abridged version of our Daily Report.
A quick change in character
The S&P went from 52-week high to below its 200-day average in only 3 weeks. That ended a streak of more than six months above its 200-day average. Other times it underwent a quick change in character, from a 52-week high to below its 200-day average in fewer than 30 days, led to generally good returns.
Smart money is stepping in
The spread between Smart and Dumb Money Confidence is getting extreme. Dumb Money Confidence dropped from 60% last week to under 30% on Friday.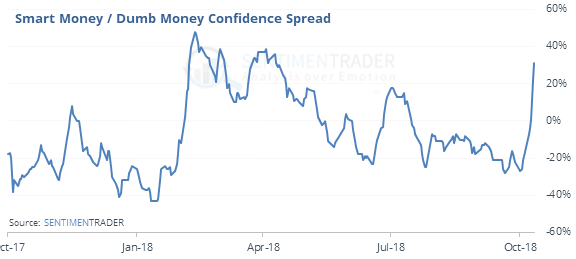 By the time the spread between the two has become this wide, annualized returns became excellent.
An emerging rally
The MSCI Emerging Markets index rallied more than 2.5% on Friday after setting a 52-week low on Thursday. This has been a consistent sign that sellers were exhausted, with one exception.
The latest Commitments of Traders report was released, covering positions through Tuesday
The 3-Year Min/Max Screen shows that "smart money" hedgers moved to multi-year net long exposure to the Aussie dollar, 5-year and 30-year Treasuries, and gold. That gold move was notable, since it's one of the rare times that hedgers became more aggressive even when the metal wasn't hitting new lows.



Related Posts:
---
Tagged As:
The post titled Quick Change In Character; Smart Money Steps In; Emerging Stocks Rebound was originally published as on SentimenTrader.com on 2018-10-15.
At SentimenTrader.com, our service is not focused on market timing per se, but rather risk management. That may be a distinction without a difference, but it's how we approach the markets. We study signs that suggest it is time to raise or lower market exposure as a function of risk relative to probable reward. It is all about risk-adjusted expectations given existing evidence. Learn more about our service , research, models and indicators.
Follow us on Twitter for up to the minute analysis of market action.
Follow @sentimentrader