Precious Little Optimism As Emerging Markets Sink Toward Bear Market
---
---
This is an abridged version of our Daily Report.
Precious little optimism
Optimism on gold, silver, and platinum now ranks among the lowest in 27 years.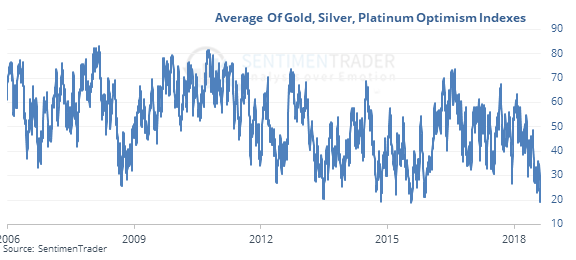 The combined Optimism Index on the three metals has been lower only a handful of days. The few other periods of historic pessimism led to good returns in gold, silver, and mining stocks.
Stiff selling in miners
The NYSE Arca Gold Miners Index fell 5% to a 52-week low on Wednesday then lost another 1% on Thursday. That has indicated capitulation in the past (see inside). The 3-day average Optimism Index of the GDXJ fund is now below 15.
An emerging bear market
Emerging markets are nearing a 20% drawdown from their peak for the first time in several years. Other times they initially declined 20% led to "feast or famine" returns, with the winners seeing limited losses and 10% gains, while the losers saw limited upside and 10% declines.
Shrinkage
Shares outstanding in popular funds that bet on a rise in volatility, like VXX, UVXY, and TVIX, have collapsed nearly 20% in just the past few days. This tends to happen to volatility rises even though the rise in the VIX hasn't been all that large.
F
or access to the full report, indicators, charts, screens, and Backtest Engine, log in or sign up for a free 30-day trial today.
Related Posts:
---
Tagged As:
The post titled Precious Little Optimism As Emerging Markets Sink Toward Bear Market was originally published as on SentimenTrader.com on 2018-08-17.
At SentimenTrader.com, our service is not focused on market timing per se, but rather risk management. That may be a distinction without a difference, but it's how we approach the markets. We study signs that suggest it is time to raise or lower market exposure as a function of risk relative to probable reward. It is all about risk-adjusted expectations given existing evidence. Learn more about our service , research, models and indicators.
Follow us on Twitter for up to the minute analysis of market action.
Follow @sentimentrader