Post-Election Jump; No More Oversold Tailwind
---
---
This is an abridged version of our Daily Report.
Election excitement
Following the midterm election, the S&P 500 jumped more than 1%, and sector performance showed a strong risk-on bias.
It was the best post-election day rally for the S&P 500 since 1982, which is the only one (midterm or presidential) that managed a larger gain than stocks enjoyed on Wednesday. Similar returns following other major elections since 1950 led to consistent gains in the months ahead, with few (or no) losses over the next 3-6 months.

Back to neutral
After a large pullback from a high and a deep oversold reading in the Relative Strength Index, the S&P 500 has returned to neutral. Now that stocks have recovered a good chunk of the decline, they're no longer oversold, determined by the Relative Strength Index (RSI). After dropping well below 30, the indicator has finally moved back to neutral territory above 50.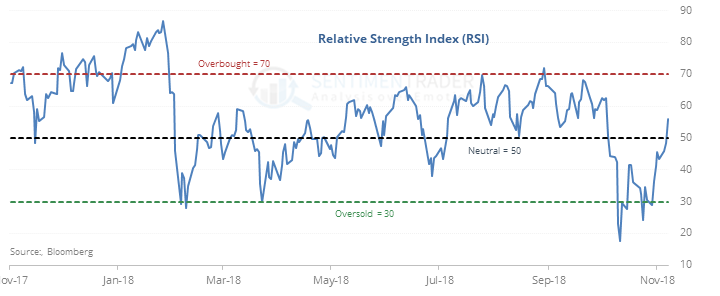 While the lack of oversold readings is no longer a tailwind, the lack of them wasn't a long-term sell even though the index did tend to pull back over the next two weeks.
More new highs
After more than 30 days with more 52-week lows than 52-week highs on the NYSE, there were finally more highs than lows on Wednesday. After similar recoveries since 1965, the S&P struggled in the shorter-term, with gains over the next two weeks only 41% of the time and an average return of -1.4%.
Oversold volatility
The Optimism Index on VXX is below 13 for the first time in months. According to the Backtest Engine, that has happened on 59 days since 2010.




The post titled Post-Election Jump; No More Oversold Tailwind was originally published as on SentimenTrader.com on 2018-11-08.
At SentimenTrader.com, our service is not focused on market timing per se, but rather risk management. That may be a distinction without a difference, but it's how we approach the markets. We study signs that suggest it is time to raise or lower market exposure as a function of risk relative to probable reward. It is all about risk-adjusted expectations given existing evidence. Learn more about our service , research, models and indicators.
Follow us on Twitter for up to the minute analysis of market action.
Follow @sentimentrader