Possible Earnings Contraction; Mom And Pop Roar Back; Dollar Momentum
---
---
Earnings contraction
Companies in the S&P 500 have shown 10 quarters of year-over-year growth in operating earnings, but that streak is in danger of ending. Estimates for this quarter continue to come down.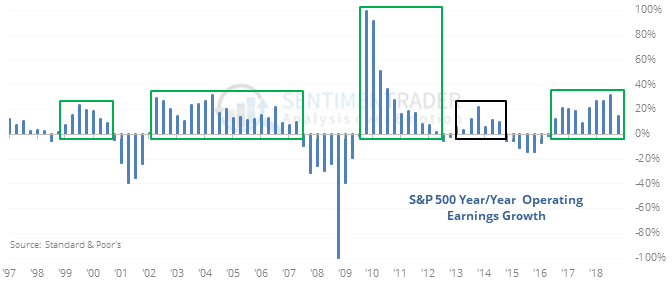 If that's going to be the case, then traders start to anticipate slower growth, and returns in the S&P were poor because of it. When these long streaks of earnings growth ended, the S&P struggled in the months ahead.
They're back
After pulling back their exposure to stocks, and raising their cash levels, in December, mom-and-pop investors returned in force in January. The AAII survey shows that they returned to a near-record level of exposure to the stock market, which has led to generally poor returns. Once net exposure exceeded 55%, stocks started running into trouble. Above that level, the S&P's annualized return was -1.6% compared to +9.3% below that threshold.
Strong dollar
The U.S. dollar has rallied for 7 straight days, with a decent gain, and enough to push it close to its 52-week high.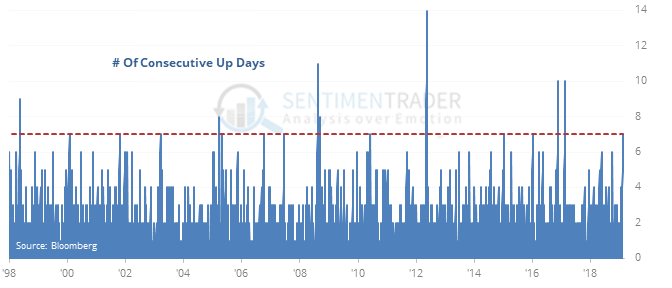 Similar bouts of momentum have been a decent sign for the dollar going forward, but consistently negative for both stocks and gold.
The Commitments of Traders report was released, covering positions through January 8
The CFTC is still catching up from the government shutdown, so these positions are a month old. Hedgers were fairly aggressive in adding to the Nasdaq, but not so much the other major stock indexes. They were aggressive in selling Treasuries, especially the 10-year. The 3-year Min/Max Screen showed a few extremes, including the Nasdaq. Other markets are mostly neutral, though they've been buying the Canadian dollar and selling silver.
This post was an abridged version of our Daily Report. For full access, sign up for a 30-day free trial now.

Related Posts:
---
Tagged As:
The post titled Possible Earnings Contraction; Mom And Pop Roar Back; Dollar Momentum was originally published as on SentimenTrader.com on 2019-02-11.
At SentimenTrader.com, our service is not focused on market timing per se, but rather risk management. That may be a distinction without a difference, but it's how we approach the markets. We study signs that suggest it is time to raise or lower market exposure as a function of risk relative to probable reward. It is all about risk-adjusted expectations given existing evidence. Learn more about our service , research, models and indicators.
Follow us on Twitter for up to the minute analysis of market action.
Follow @sentimentrader