Persistent Momentum Gets Investors Back In The Mood
---
---
This is an abridged version of our recent reports and notes. For immediate access with no obligation, sign up for a 30-day free trial now.
Investors are back in the mood
After more than 9 months, the AAII survey of individual investors shows that more than two-thirds of them are finally optimistic. This ends one of the longest streaks in 30 years.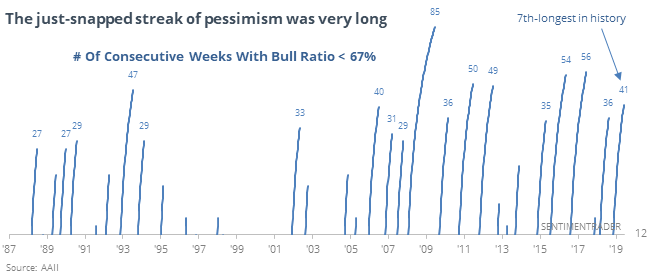 After the ends of other long streaks with subdued sentiment, the S&P 500 most often carried higher over the next week, but then ran into some issues. Over the next 2-3 months, its returns suffered. They were not only below random, but the median was negative, and the risk/reward was poor.
Persistent Momentum
We've looked at a bunch of momentum type studies. Another will pop up this week, with the S&P 500 rallying 10 out of 11 weeks.
Such persistent rallies have usually been followed by weakness over the next 1-2 weeks, especially from 1980-present. And while the 2-3 months forward returns may seem bullish, many of those bullish cases occurred before the 1980s.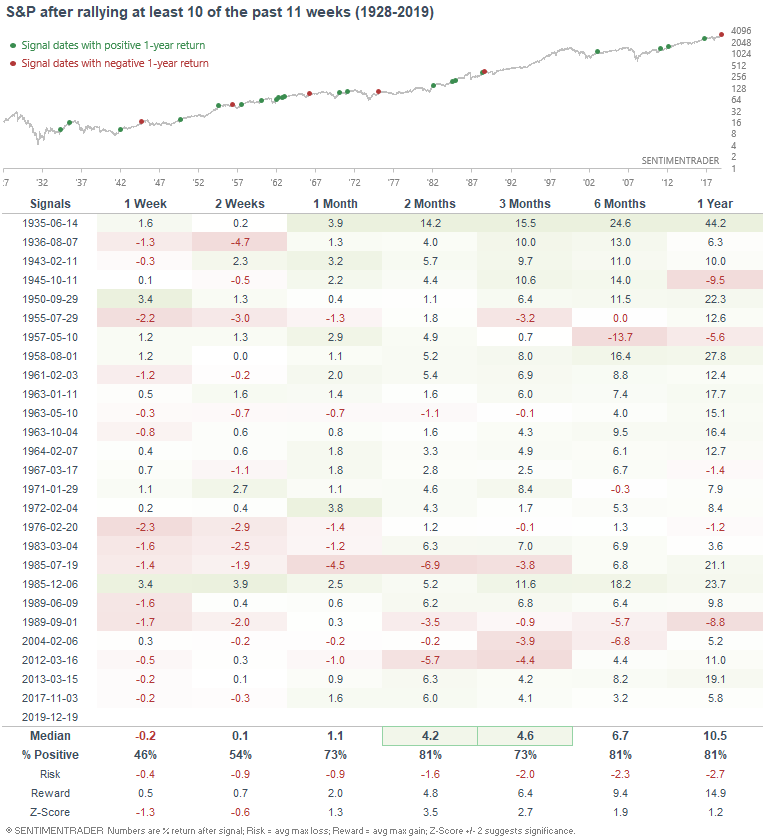 We also looked at:
Junk bond buying binge, with a sentiment composite the highest in several years
Active investment managers are aggressively positioned
Gamma exposure is exploding
Smart Money / Dumb Money Confidence is extremely stretched
Optimism on oil and gas producers just hit an extreme
The Conference Board's LEI is dropping
Volatility in Hong Kong is very low
What happens when there are few 1% down days in a given year
In Mexico, more shares are above their 10-day average than any point in 6 years

Related Posts:
---
Tagged As:
The post titled Persistent Momentum Gets Investors Back In The Mood was originally published as on SentimenTrader.com on 2019-12-20.
At SentimenTrader.com, our service is not focused on market timing per se, but rather risk management. That may be a distinction without a difference, but it's how we approach the markets. We study signs that suggest it is time to raise or lower market exposure as a function of risk relative to probable reward. It is all about risk-adjusted expectations given existing evidence. Learn more about our service , research, models and indicators.
Follow us on Twitter for up to the minute analysis of market action.
Follow @sentimentrader