Penny stock trading is picking up again
---
---
With the rise in interest for trading stocks among new investors, one of the concerns is that it's a sign that unsophisticated investors are helping to push markets higher, increasing the likelihood that these gains are only temporary.
While the rise of new accounts is a fact, the implications are far less clear and open for debate. Sentiment among the smallest of traders, especially in the options market, is unprecedented, and that has never been a good sign.
The Equity Put/Call Ratio plunged again on Wednesday, and the 10-day average is now below 0.45 for the first time since the year 2000. Share-equivalent volume in all equity call options on the Chicago Board Options Exchange over the past 50 days is now more than 22% of volume in the S&P 500. That's nearing the record high from February.
There has been an explosion of new accounts on retail-facing trading platforms, so another place of speculative activity we can check is whether that has translated into a rush into the lowest-priced stocks on the market, those trading over-the-counter, often for less than $1 per share.
According to the latest Nasdaq data, volume in these shares just hit the highest in more than two years.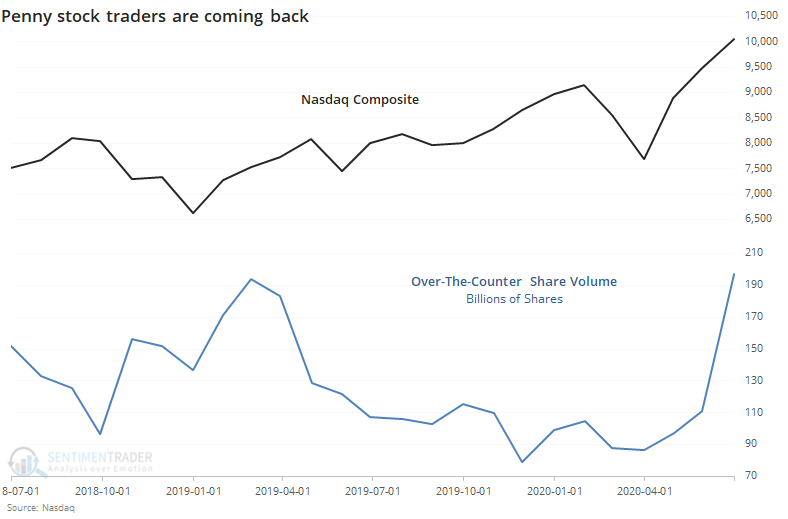 Penny stock trading has been an inconsistent indicator over the decades, so we don't put much weight on it. The fact that it's still somewhat subdued might be a very slight positive over the medium- to long-term. It's much more troubling that we're seeing a lot more - even historic - speculative activity in the leveraged, expiring options market.
This is an abridged version of our recent reports and notes. For immediate access with no obligation, sign up for a 30-day free trial now.
We also looked at:
A longer-term look at the history of penny stock trading, in absolute terms and relative to the S&P 500
Call option volume as a % of S&P 500 volume is nearing 30-year highs
Small business sales expectations have rebounded from a historic low

Related Posts:
---
Tagged As:
The post titled Penny stock trading is picking up again was originally published as on SentimenTrader.com on 2020-07-17.
At SentimenTrader.com, our service is not focused on market timing per se, but rather risk management. That may be a distinction without a difference, but it's how we approach the markets. We study signs that suggest it is time to raise or lower market exposure as a function of risk relative to probable reward. It is all about risk-adjusted expectations given existing evidence. Learn more about our service , research, models and indicators.
Follow us on Twitter for up to the minute analysis of market action.
Follow @sentimentrader