Panic-Level Selling Last Week As Bonds Hit Historic Extreme
---
---
Safe haven heaven
Friday provided some relief, but the past few weeks have been rocky for stocks. In response, investors moved aggressively into havens like bonds and gold. The 3-week change in the total return on bonds and gold are so far above that for stocks that it's neared a 30-year extreme.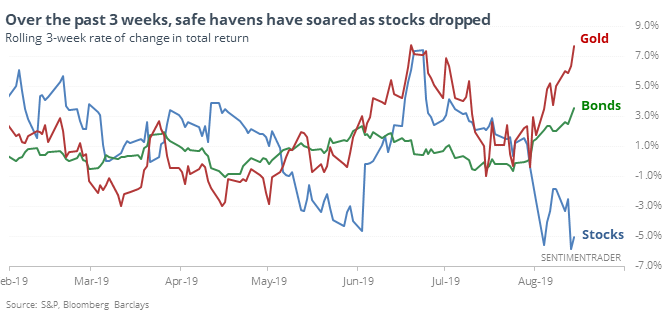 There were really only three distinct time frames in the past 30 years when this happened - January and November 2008, and again in August 2011. If we relax the parameters to get a larger sample size, future returns in stocks were still robust.
Copper comeback?
Large hedgers in copper futures are holding a significant amount of the open interest net long. At the same time, they're short more than 50% of open interest in gold. The difference between them is wide enough to be considered extreme.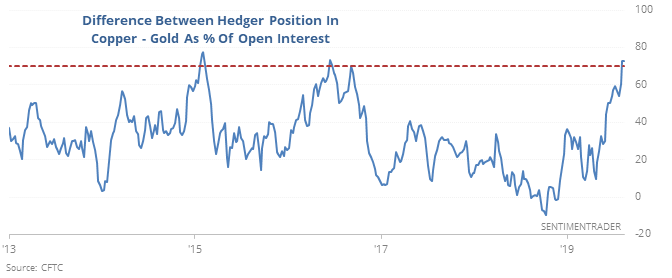 After each of the other times it got this wide over the past 30 years, copper rallied more than gold.
Panic-level selling
The Arms Index (aka TRIN) has shown panic-level selling several times over the past week. The 5-day average climbed above 2 for the first time since August 2011 as a result.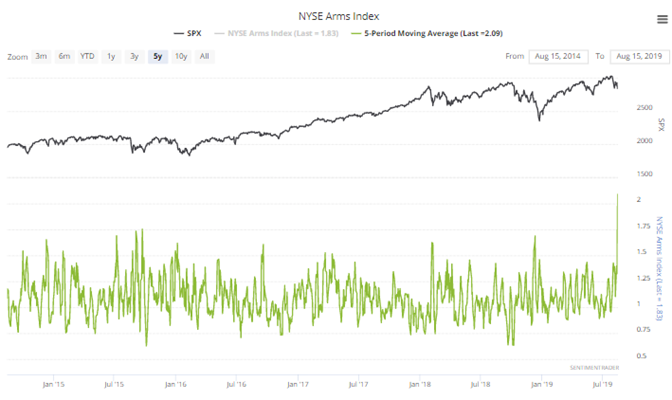 Since 1962, when it starts to calm down, it has been good for stocks. It's also notable that Up Volume has swung as much to the upside as downside over the past couple of weeks.
Bond Boondogle
A popular technical indicator, the Relative Strength Index, fell to a historic low for bonds last week. Every time it has gotten this low before, bond yields rose over the next few months.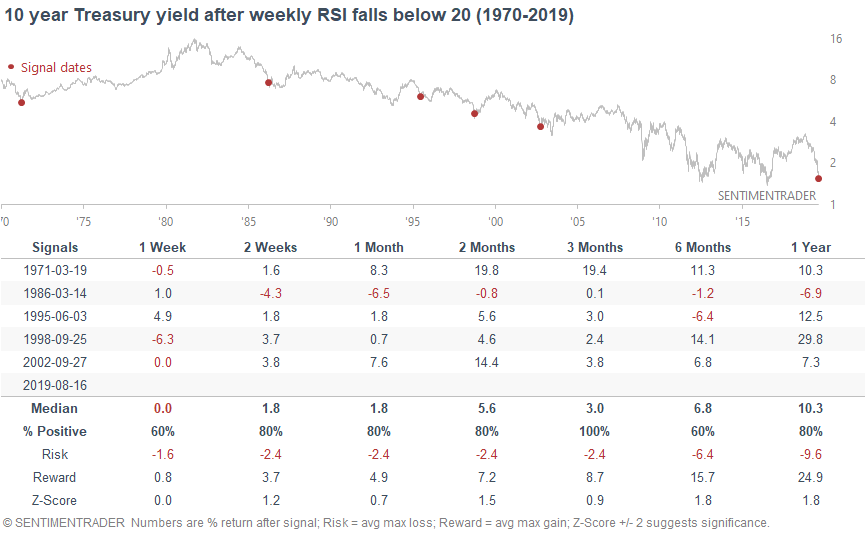 For stocks, it was an excellent sign, with gains in the S&P 500 across almost all time frames past one week for all signals.
The latest Commitments of Traders report was released, covering positions through Tuesday
The 3-Year Min/Max Screen shows new extremes in Eurodollars and natural gas, but neither market has traditionally responded very well to this data. Mostly, hedgers made small adjustments to contracts that were already showing extremes.
This post was an abridged version of our previous day's Daily Report. For full access, sign up for a 30-day free trial now.

Related Posts:
---
Tagged As:
The post titled Panic-Level Selling Last Week As Bonds Hit Historic Extreme was originally published as on SentimenTrader.com on 2019-08-19.
At SentimenTrader.com, our service is not focused on market timing per se, but rather risk management. That may be a distinction without a difference, but it's how we approach the markets. We study signs that suggest it is time to raise or lower market exposure as a function of risk relative to probable reward. It is all about risk-adjusted expectations given existing evidence. Learn more about our service , research, models and indicators.
Follow us on Twitter for up to the minute analysis of market action.
Follow @sentimentrader