Own Any Stocks? There's a 70% Probability You're Underperforming
---
---
It's getting harder and harder for an average stock to beat the index.
For the second time in less than a year, Dean notes that only 30% of stocks in the S&P 500 have outperformed the index itself over the past month. Since 1927, only 2% of days have seen fewer stocks outperform the index.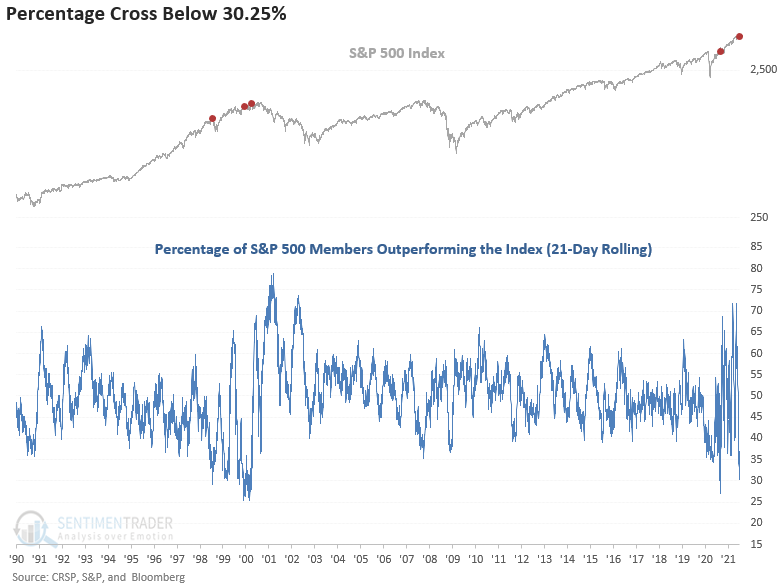 This type of behavior will happen when relatively few stocks are driving the gains in an index, especially a capitalization-weighted one like the S&P 500. We can also see this reflected in the relatively few stocks that are holding above their 50-day moving averages.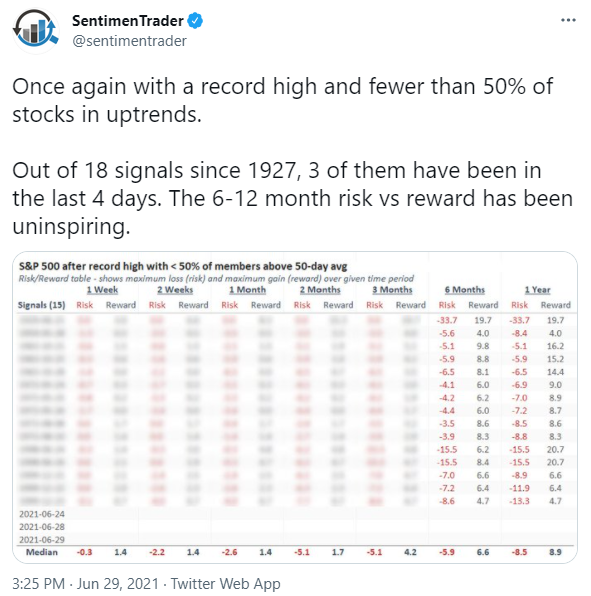 The last time when 30% of stocks outperformed the index, the S&P 500 rallied for an additional eight trading days before correcting nearly 10% last September. The tail-end of the Dotcom bubble provides the most recent analog to the wild current-day swings in the indicator.
When we look at sectors, only 13% of Consumer Staples and 12% of Industrial stocks are outperforming their indexes, both the lowest in history.
What else we're looking at
What the low percentage of outperforming stocks has meant for future returns
Table showing all sectors and their % of stocks outperforming their indexes
What 100 years of the Shiller P/E Ratio is telling us about stocks' prospects
This is the best combined year ever for stocks and commodities
What a 10% return in both stocks and commodities meant for both, as well as sectors and factors

---
Stat box



Once again, on Tuesday, the S&P 500 hit a record high with fewer than 50% of its members above their 50-day moving averages. That's the 3rd time in the past 4 sessions. Since 1927, this had happened only 15 other times total.
---
Etcetera
JP(essimistic) Morgan. The JPMorgan Alerian MLP Optix has dropped below 20 for the sixth time this year. According to the Backtest Engine, in the past three years, when the Optix has crossed below 20, you would see mostly negative returns. However, it should be noted that the second half of 2020 and beyond saw good returns.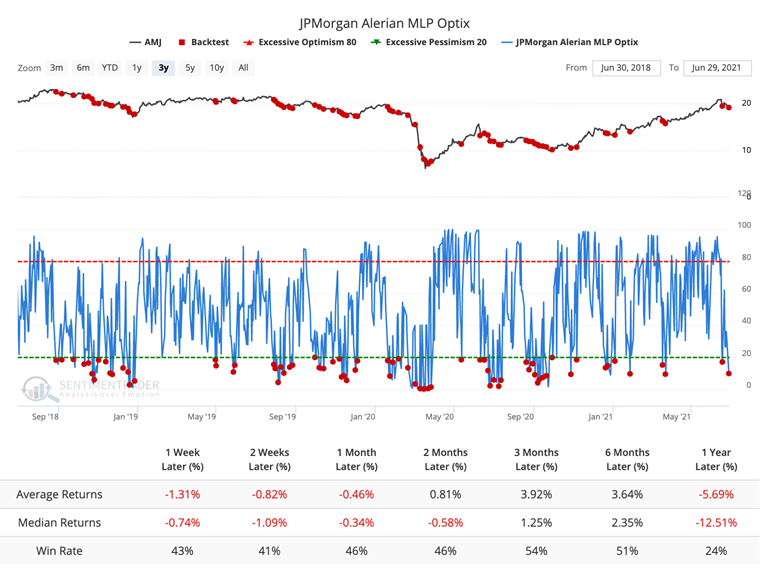 Who's Calling? The Put/Call Open Interest Ratio on the Dow Industrials fund, DIA, has reached its highest point since Feb. 2017, showing that 175 put options are outstanding for every 100 call options.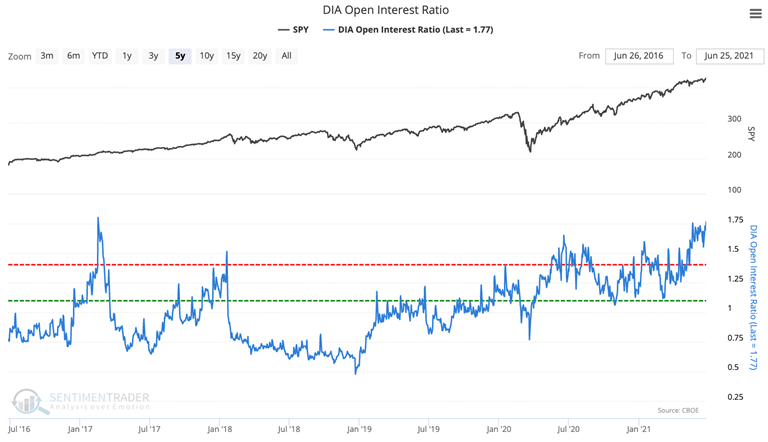 Materialistic. Corporate insiders in Materials stocks recently hit a 7-year high in the number of insiders making sales, but it has ebbed slightly in recent weeks.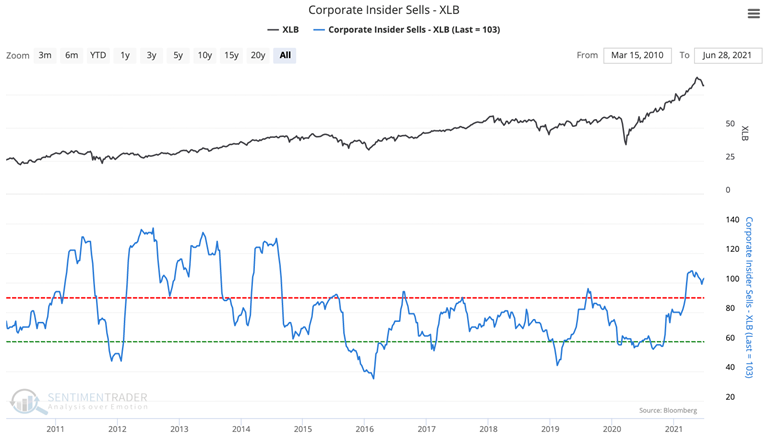 Related Posts:
---
Tagged As:
The post titled Own Any Stocks? There's a 70% Probability You're Underperforming was originally published as on SentimenTrader.com on 2021-06-30.
At SentimenTrader.com, our service is not focused on market timing per se, but rather risk management. That may be a distinction without a difference, but it's how we approach the markets. We study signs that suggest it is time to raise or lower market exposure as a function of risk relative to probable reward. It is all about risk-adjusted expectations given existing evidence. Learn more about our service , research, models and indicators.
Follow us on Twitter for up to the minute analysis of market action.
Follow @sentimentrader