Options traders reverse their bearish bets
---
---
A reversal in bets against stocks

When investors are bullish on stocks, they buy call options to bet on rising prices. Conversely, when they are bearish on stocks, they buy put options to bet on declining stocks. The Total U.S. Put/Call Option Volume Ratio can be used as a contrary indicator to identify an environment where sentiment has become too pessimistic on the future direction of stocks. When opinions become too bearish, stocks tend to rally.
The Options Price Reporting Authority (OPRA) aggregates options data from a consortium of exchanges.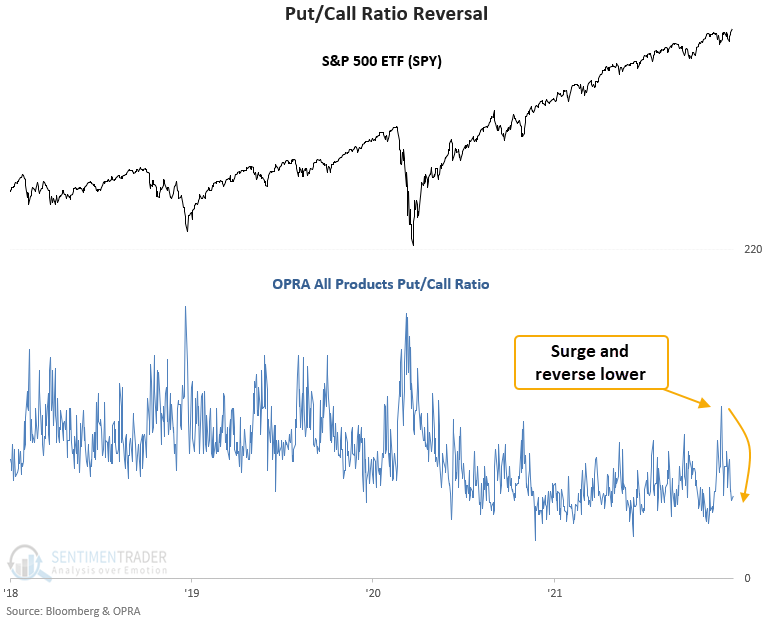 Dean's put/call ratio trading model applies a lookback period to a moving average of the aggregated put/call ratio. A new buy signal occurs when the ratio cycles from a high to low level relative to other readings in recent months, as long as momentum is positive.
This signal triggered 40 other times over the past 18 years. After the others, future returns, win rates, and risk/reward profiles were excellent across all time frames.

Stat box



The 1-3 Year Treasury Bond Fund (SHY) is on track for its 5th consecutive monthly decline. In the fund's history, only January 2018 can match the current losing streak.
Wall Street is betting on more gains
We saw on Monday that individual investors are pessimistic. Wall Street isn't - analysts are busy upgrading price targets, and strategists expect the S&P 500 to add to its gains in the new year. Strategists' average price target for the S&P 500 over the next year is nearly 5% higher than where the S&P was on Monday, suggesting the index is undervalued. LOL.
Based on current figures, when the S&P is more than 4.5% below strategists' year-ahead estimated price, the index returned an annualized +9.5%, versus a wretched -9.8% when the index was at least 4.5% above strategists' estimate.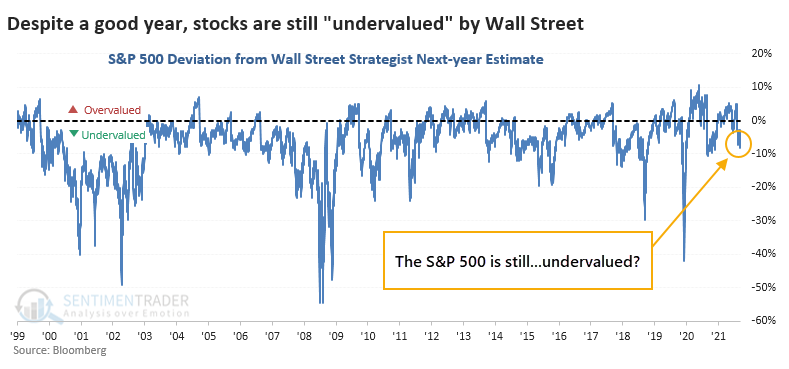 Looking at all years when there were 3 trading days left in the year, and the S&P was within 1% of a multi-year high, this is one of a handful that shows the S&P was still undervalued. And that was mostly a good sign for forward returns, especially in the first couple weeks of the new year.


Related Posts:
---
Tagged As:
The post titled Options traders reverse their bearish bets was originally published as on SentimenTrader.com on 2021-12-29.
At SentimenTrader.com, our service is not focused on market timing per se, but rather risk management. That may be a distinction without a difference, but it's how we approach the markets. We study signs that suggest it is time to raise or lower market exposure as a function of risk relative to probable reward. It is all about risk-adjusted expectations given existing evidence. Learn more about our service , research, models and indicators.
Follow us on Twitter for up to the minute analysis of market action.
Follow @sentimentrader