Options Traders Pour Into Calls As Breadth Lags
---
---

This is an abridged version of our Daily Report.
Forget stock, call options have more oomph
Retail traders have returned in a big way. We saw on Friday the surge in brokerage transactions, and that has bled over into the options market. The smallest of options traders put on a skyrocketing number of bullish positions last week, opening a record number of call purchases and put sales.

They haven't engaged in activity like this since October 2000.
Getting tired under the surface
Stocks have jumped over the past month, yet measures of the momentum of underlying breadth are lagging. The McClellan Oscillator and Summation Index are well below where they "should" be given such a rise in the indexes.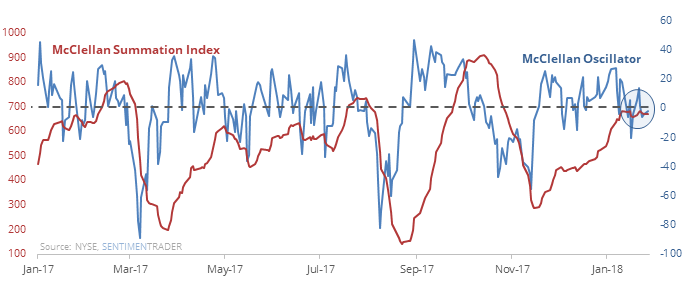 While ineffective in 2017, divergences like this have led to a poor risk/reward over the next 2 months.
A streak snapped
The S&P 500 finally suffered a loss greater than 0.6%, its first in nearly 100 days (a record). The ends of other long streaks led to shorter-term rebounds, medium-term losses.
Fear rising?
The VIX "fear gauge" closed at its highest level in more than 100 days a day after the S&P set a 52-week high.
For access to the full report, indicators, charts, screens, and Backtest Engine, log in or sign up for a free 30-day trial today.
The post titled Options Traders Pour Into Calls As Breadth Lags was originally published as on SentimenTrader.com on 2018-01-30.
At SentimenTrader.com, our service is not focused on market timing per se, but rather risk management. That may be a distinction without a difference, but it's how we approach the markets. We study signs that suggest it is time to raise or lower market exposure as a function of risk relative to probable reward. It is all about risk-adjusted expectations given existing evidence. Learn more about our service , research, models and indicators.
Follow us on Twitter for up to the minute analysis of market action.
Follow @sentimentrader