Options Traders Just Did Something They've Never Done Before
---
---
Call selling hits record low
The smallest of options traders have spent the past 5 weeks buying to open speculative call options at one of the highest rates since the financial crisis. And they've given up trying to collect premium by selling call options, which would limit their upside. That activity has dried up to a 19-year low.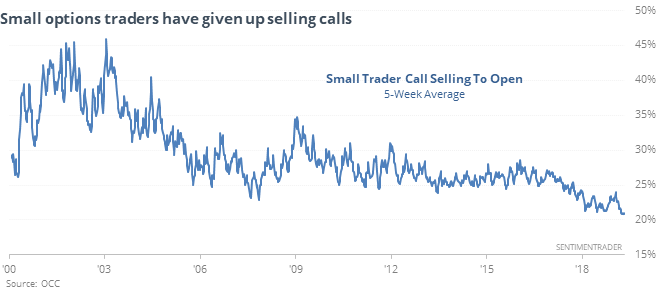 By aggressively allocating their volume on speculative upside call options and avoiding the potential to miss out on gains by selling calls, they are among the most aggressively positioned as any other time in the past 19 years.
Record recovery
Thanks in large part to a President with direct and immediate access to millions of investors, we're seeing price action like we've never seen before. Monday's gap down and recovery were the largest-ever with stocks so near their highs.
The only remotely related precedents saw some weakness in the ensuing days.
Many stocks are still stuck
As of Friday, 40% of S&P 500 stocks were still mired in a correction, at least 10% from their 52-week high. By this point in most recoveries, fewer than 33% of stocks have still been stuck so far below their highs. About 20% of them are still in bear markets.
Soybeans…oof
With an Optimism Index at 16, we're seeing some of the least optimism for any commodity in 29 years. For beans, only 15 other days since '90 have seen optimism this low.
This post was an abridged version of our previous day's Daily Report. For full access, sign up for a 30-day free trial now.

Related Posts:
---
Tagged As:
The post titled Options Traders Just Did Something They've Never Done Before was originally published as on SentimenTrader.com on 2019-05-07.
At SentimenTrader.com, our service is not focused on market timing per se, but rather risk management. That may be a distinction without a difference, but it's how we approach the markets. We study signs that suggest it is time to raise or lower market exposure as a function of risk relative to probable reward. It is all about risk-adjusted expectations given existing evidence. Learn more about our service , research, models and indicators.
Follow us on Twitter for up to the minute analysis of market action.
Follow @sentimentrader