Options Traders Bet On Decline As S&P Meets Target And Utes Surge
---
---
Options bets and strategists' spread
As stocks rally, options traders have built up a large position in S&P 500 put options, relative to the number of outstanding calls. It's the opposite in VIX options, where they have few puts and many calls. Since 2006, this has led to a negative annualized return in the S&P 500.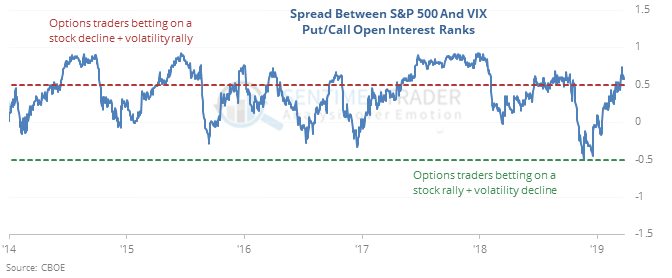 At the same time, the S&P 500 has almost reached its year-end price target as estimated by a survey of Wall Street strategists.
Surging utes
It's not often that a normally low-beta, defensive sector like utilities sees heavy momentum. It has recently, though, with more than 80% of the stocks hitting a 52-week high at the same time. Unlike some other assets and sectors, it has been extremely difficult for utilities to sustain this kind of buying interest.
Copper is golden
Copper futures finally managed to put together enough of a rally for its 50-day average to cross above its 200-day, for a "golden cross." That's the first time in more than six months. It wasn't a very good trend-following indicator, however, as the metal added to its gains over the next two months after only 2 out of 9 signals in 30 years.
Bond beast
Bonds have been surging and the 10-day Optimism Index for the BND fund is now above 73%. According to the Backtest Engine, a reading this high led to a negative return up to one month later.
This post was an abridged version of our previous day's Daily Report. For full access, sign up for a 30-day free trial now.

Related Posts:
---
Tagged As:
The post titled Options Traders Bet On Decline As S&P Meets Target And Utes Surge was originally published as on SentimenTrader.com on 2019-03-28.
At SentimenTrader.com, our service is not focused on market timing per se, but rather risk management. That may be a distinction without a difference, but it's how we approach the markets. We study signs that suggest it is time to raise or lower market exposure as a function of risk relative to probable reward. It is all about risk-adjusted expectations given existing evidence. Learn more about our service , research, models and indicators.
Follow us on Twitter for up to the minute analysis of market action.
Follow @sentimentrader