Options speculators pull back but are still jaw-droppingly aggressive
---
---
Arguably the biggest story in sentiment in recent weeks has been the behavior of speculative options traders.
Financial media initially blamed this on the Softbank conglomerate. We've been arguing that Softbank was a straw man; rather, it has been the behavior of the smallest of traders that was the real driving force. That idea gained ground during the week, thanks in large part to Benn Eifert's explanation of how this could happen on Twitter.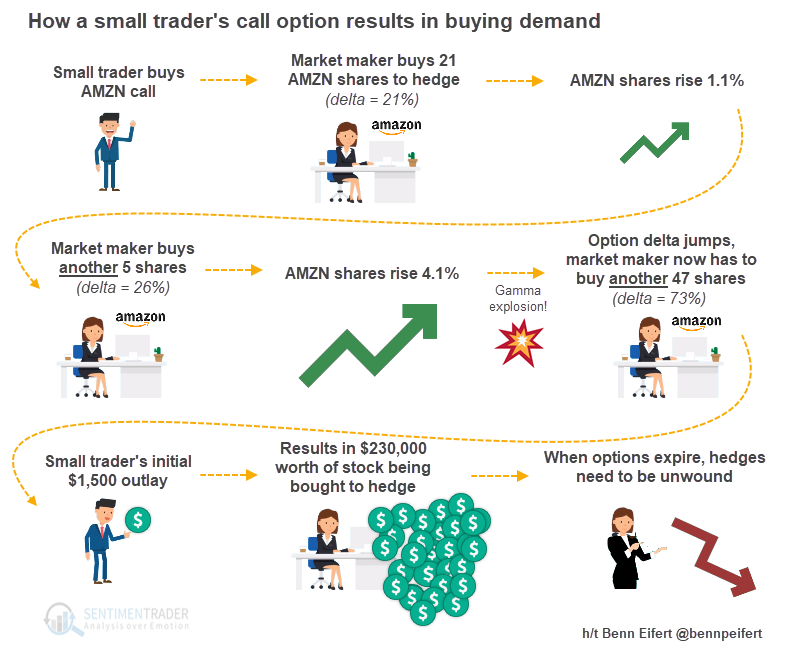 According to the OCC, the two most active options on Friday - by a very wide margin - were Apple and Tesla, two of the biggest speculative darlings heading into last week. The value of calls in both stocks have been plunging with heavy volume, yet open interest is actually rising. This would suggest that traders are not pulling back after getting burned, rather they're continuing to bet on higher prices.
Looking at the weekly data, this is evident. Let's look at data for the smallest of options traders in the most comprehensive, objective way we can. This is the volume of opening call purchases minus opening put purchases, expressed as a percentage of total NYSE volume. To adjust for contract size, we'll multiply the options volume by 100.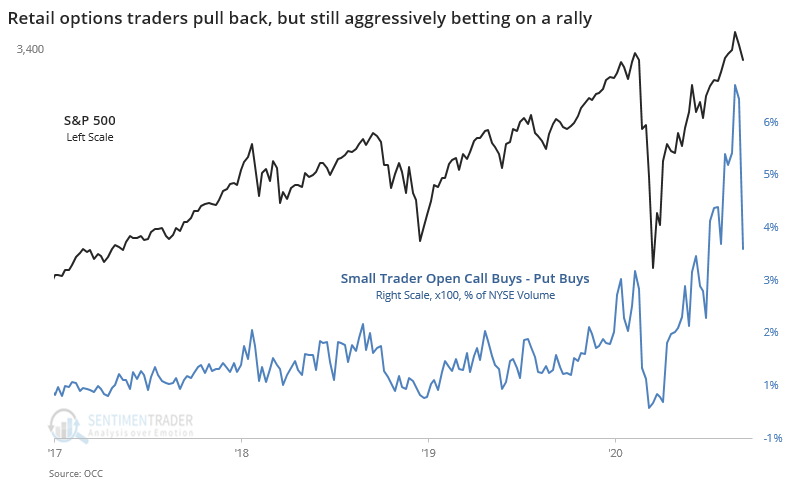 Clearly, there was a big pullback in speculative volume last week, dropping off by more than 50% from the upside panic to start September. But when zooming out, we can see that last week was still higher than any previous record high, by far.
This is an abridged version of our recent reports and notes. For immediate access with no obligation, sign up for a 30-day free trial now.
We also looked at:
More detail on last week's options activity
Returns after the 3 other times there was a surge and peak in options speculation
Despite a steep pullback from its highs, the Nasdaq hasn't seen any severe internal selling pressure
There has been a record flow into the 3x levered TQQQ fund versus QQQ
Sentiment on soybeans is ebullient
What happens when there is a positive breadth thrust AFTER stocks have already rallied hard

The post titled Options speculators pull back but are still jaw-droppingly aggressive was originally published as on SentimenTrader.com on 2020-09-15.
At SentimenTrader.com, our service is not focused on market timing per se, but rather risk management. That may be a distinction without a difference, but it's how we approach the markets. We study signs that suggest it is time to raise or lower market exposure as a function of risk relative to probable reward. It is all about risk-adjusted expectations given existing evidence. Learn more about our service , research, models and indicators.
Follow us on Twitter for up to the minute analysis of market action.
Follow @sentimentrader