Options speculators are outspending hedgers 3-to-1
---
---
Options traders' enthusiasm didn't let up as they closed out the year. In fact, it got only more intense.
To end last week, the smallest of traders accounted for 45% of all opening call purchases, dwarfing the largest traders who accounted for only 30% of volume. That's the 2nd-widest spread since 2000.
During the last week of December, the smallest of traders spent nearly $3.50 buying call options to open for every $1 in puts they bought. Our Backtest Engine shows that returns in stocks over the 1-2 months were unkind.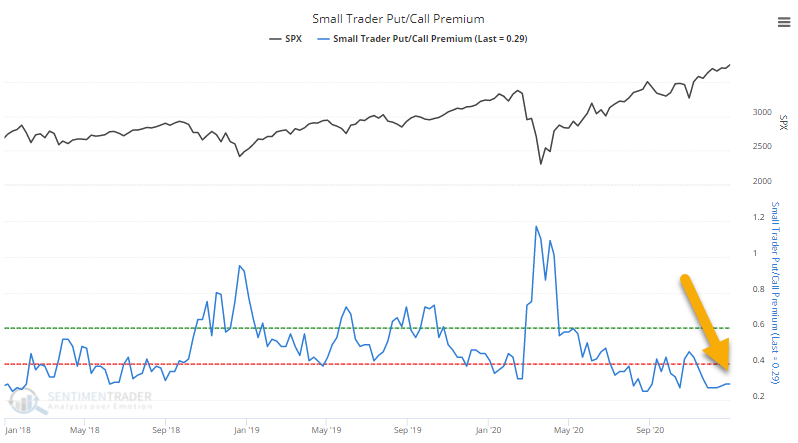 The most reliable sentiment measures tend to be those that focus on real money and leveraged instruments. That's when emotion has the greatest impact. And when we look at some of the most leveraged vehicles available to investors, there is widespread evidence of extreme speculation.
---
What else is happening
These are topics we explored in our most recent research. For immediate access with no obligation, sign up for a 30-day free trial now.
Forward returns since 2000 when put/call premiums are extremely low
Dealers have a lot of inventory to sell, with Gamma Exposure near record highs
A look at the difference in small trader versus large trader volume in speculative call options
What happens when the Russell 2000 reverses a big down day
Energy stocks broke out of a short-term consolidation
Optimism on GLD spiked above 90%
---
Stat Box

Every stock in the S&P 500 Energy sector is now trading above its 10-day moving average. That has happened on 305 other days in the past 20 years, and while some would consider it to mean the sector is short-term overbought, a month later XLE was higher after 178 of those days according to our Backtest Engine.
---
Sentiment from other perspectives
We don't necessarily agree with everything posted here - some of our work might directly contradict it - but it's often worth knowing what others are watching.
1. One of the few areas where investors don't seem to be showing much optimism is U.S. Treasuries. Clients of JP Morgan are the most net short notes/bonds in over a year. [JP Morgan via Daily Shot]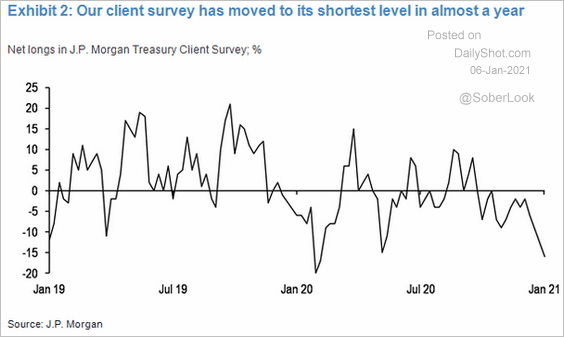 2. Among stocks, the rise of the U.S. individual investor has gotten a lot of median attention. Less covered is that mom-and-pop traders have been active to a historic degree pretty much everywhere, like Korea. [Fritz]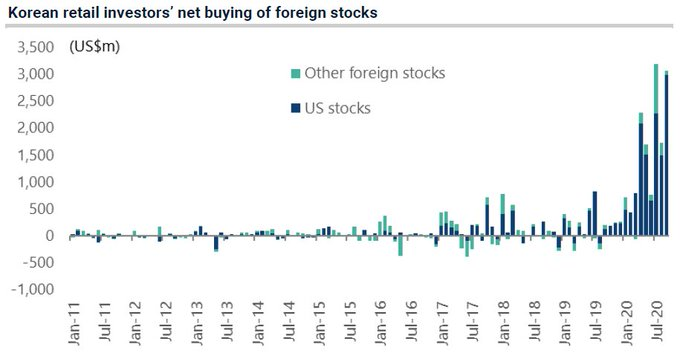 3. Those investors are buying into a market with record-high leverage and near record-high valuations. [Ned Davis Research via Daniel Lacalle]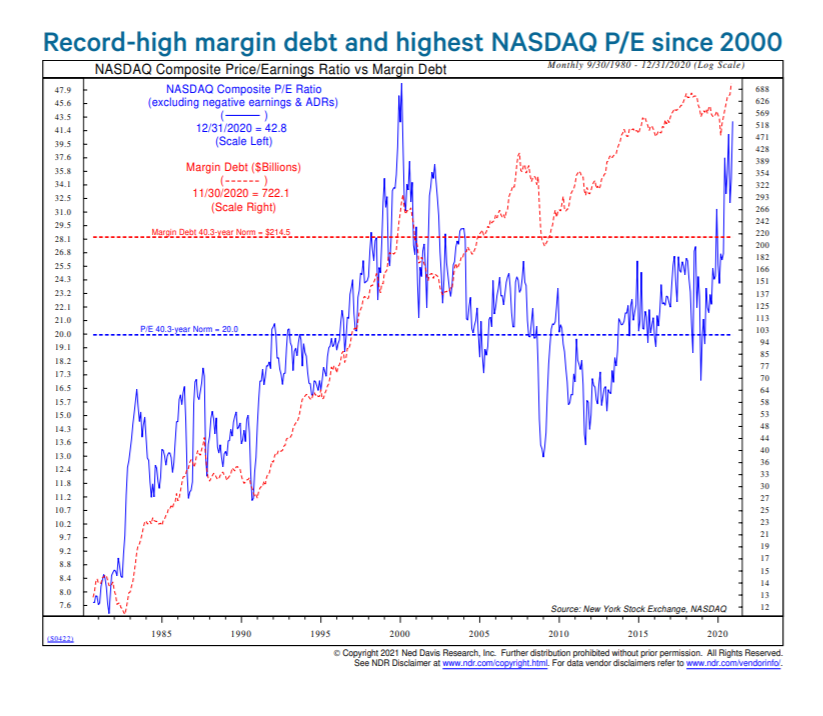 Related Posts:
---
Tagged As:
The post titled Options speculators are outspending hedgers 3-to-1 was originally published as on SentimenTrader.com on 2021-01-06.
At SentimenTrader.com, our service is not focused on market timing per se, but rather risk management. That may be a distinction without a difference, but it's how we approach the markets. We study signs that suggest it is time to raise or lower market exposure as a function of risk relative to probable reward. It is all about risk-adjusted expectations given existing evidence. Learn more about our service , research, models and indicators.
Follow us on Twitter for up to the minute analysis of market action.
Follow @sentimentrader