One Of These Curves Is Not Like The Others
---
---
Bulls yield
Stocks plunged on Wednesday, with the most common excuse being renewed fears of recession due to a further inversion in the Treasury yield curve. Between various maturities, 60% of the curve is now inverted. That preceded a prompt and severe drop in stocks in 2000, but the three other times it triggered, stocks continued to rise, and rise quite a bit.
One wrinkle is that this time, the curve through various maturities looks much different than it did during the others.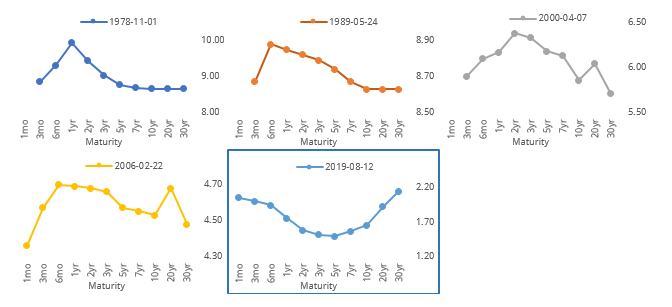 After the other times more than 60% of the curve inverted, consumer staples were the best bet, with gains every time and overall excellent returns. Energy stocks, utilities, and health care also did very well, not surprising since they're mostly defensive sectors. Financials also held up.

If the defensive sectors did the best, then it's not a big surprise that sectors like discretionary and technology tended to suffer, with the lowest returns and highest probability of a negative return.
Large and small failures
The drop on Wednesday was enough to push the Dow Industrials below its 200-day average, joining the small-cap Russell 2000 index. The S&P 500 and Nasdaq Composite both remain above their own averages.
The quick drop in the Dow from its high barely a month ago seems troubling but preceded only 4 really tough markets out of the 25 times this triggered. Over the next few months, the Dow fell more than -10% at some point four times, while rising more than +10% five times.
Safe haven bulls
Volatility in stocks has prompted investors to favor safe havens like gold and the Japanese yen. Optimism in both markets has become extremely high.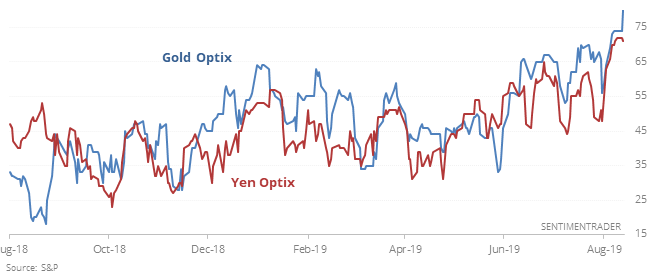 This tends to happen during volatile times for stocks, and has been a modest contrary sign, suggesting too much pessimism. Over the next 6-12 months, losses were rare, though 2007 was a major outlier.
Extremes
There will surely be more extremes to discuss in the next day. More than a third of our core indicators are now showing pessimism, the most since December. Traders bought the fewest call options in 6 months, and the relationship between stocks and bonds stretched to one of the widest in 50 years.
This post was an abridged version of our previous day's Daily Report. For full access, sign up for a 30-day free trial now.

Related Posts:
---
Tagged As:
The post titled One Of These Curves Is Not Like The Others was originally published as on SentimenTrader.com on 2019-08-15.
At SentimenTrader.com, our service is not focused on market timing per se, but rather risk management. That may be a distinction without a difference, but it's how we approach the markets. We study signs that suggest it is time to raise or lower market exposure as a function of risk relative to probable reward. It is all about risk-adjusted expectations given existing evidence. Learn more about our service , research, models and indicators.
Follow us on Twitter for up to the minute analysis of market action.
Follow @sentimentrader