One of the worst quarters ever for safe havens
---
---
During a mostly positive quarter for stocks (depending on the sector), other major markets got hit hard. For both gold and bonds, it was among the worst ever.
For gold, a 10% quarterly loss is unusual. In nearly 50 years, there had only been 9 other quarters with a loss this large.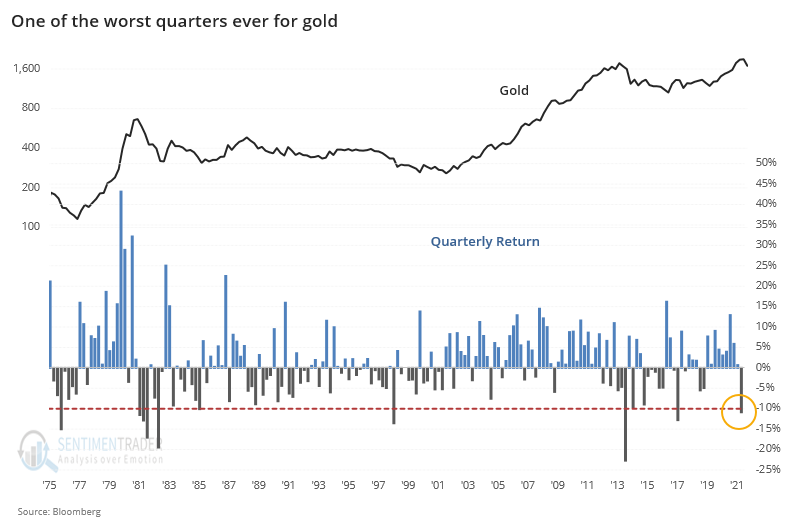 In terms of what it meant going forward, the answer was "not much." That's mostly thanks to the huge volatility in the years surrounding 1980, though - after that, all four of the quarters with massive losses ended up leading to gains for gold during the months ahead.
Bonds, too, suffered one of their worst quarters in 50 years...and it wasn't just because of Treasuries.
What else we're looking at
Full returns in gold, and gold mining stocks, after bad quarterly returns
What happens in bonds after big quarterly losses
When bonds and gold lose, does that mean stocks gain?
Looking for a potential divergence in important cyclical groups
A detailed look at crude oil tendencies in April

Stat Box



According to the AAII survey, individual investors now hold

55%

more of their portfolio in stocks than cash. Out of 402 months in the survey's history, only 21 of them showed more exposure.
Etcetera
Nothing "semi" about semis. Traders rushed whole-hog into semiconductor stocks, pushing the Optimism Index to one of the highest levels in the SMH ETF's history.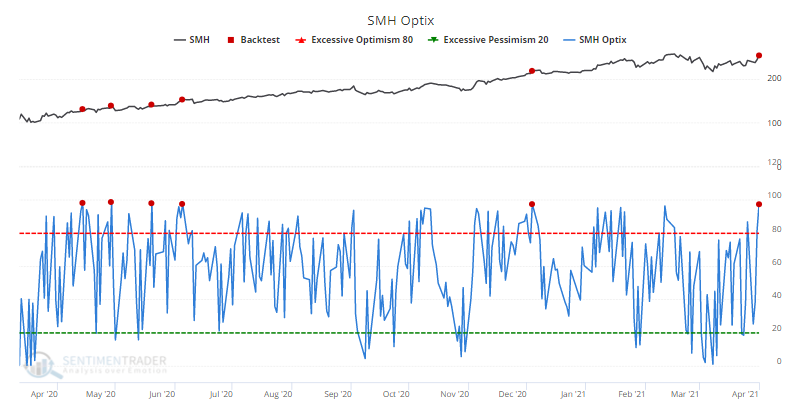 Bonds are apparently not the place to be. In direct contrast to sectors like semis, traders are fleeing some of the more staid corners of the market. The investment-grade corporate bond fund, LQD, suffered its largest-ever single-day outflow, losing more than $1.5 billion in assets.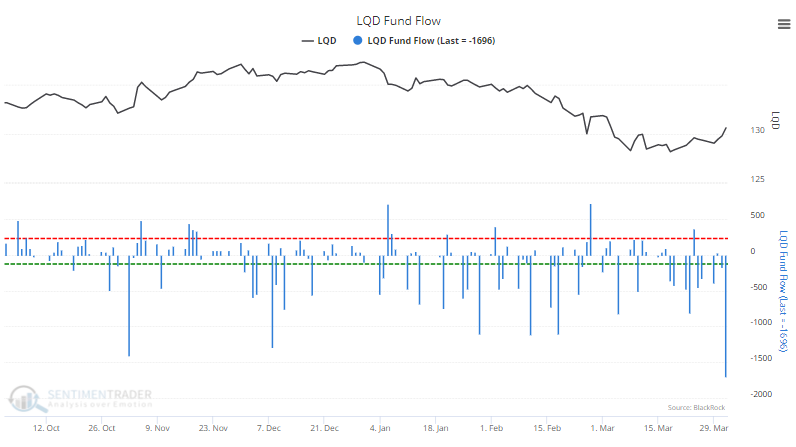 Neither is gold. The GLD gold fund has leaked an average of $160 million in assets per day for the past 50 days. In the fund's history, this was exceeded only by the spring of 2013.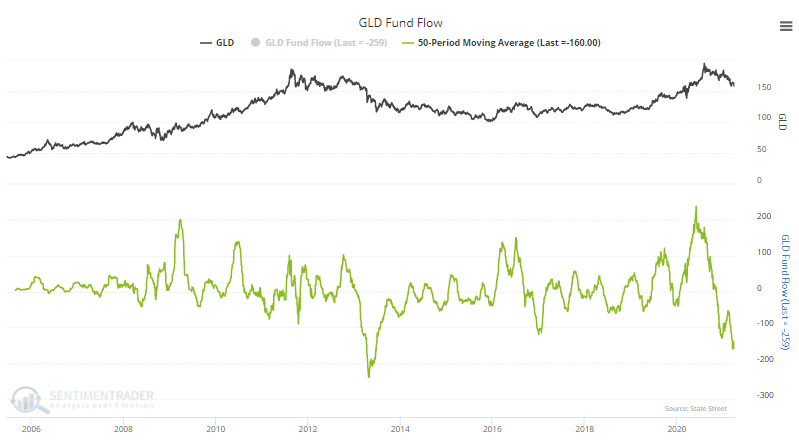 Related Posts:
---
Tagged As:
The post titled One of the worst quarters ever for safe havens was originally published as on SentimenTrader.com on 2021-04-02.
At SentimenTrader.com, our service is not focused on market timing per se, but rather risk management. That may be a distinction without a difference, but it's how we approach the markets. We study signs that suggest it is time to raise or lower market exposure as a function of risk relative to probable reward. It is all about risk-adjusted expectations given existing evidence. Learn more about our service , research, models and indicators.
Follow us on Twitter for up to the minute analysis of market action.
Follow @sentimentrader