One of the most unique moments in market history
---
---
Precedent problems
We spend a lot of time looking at precedents. It might be from a behavioral, price, breadth, or fundamental point of view, but much of it relies on some version of historical data. There is always the "this time is different" argument, and that's the case with every moment in history. Our view is that if we look at historical behaviors, through enough lenses that we get a decent sample size from different perspectives, it can provide at least a small edge over time.
Precedents are getting hard to come by lately. Monday's session was one of the books, especially when it comes down to the halt of trading.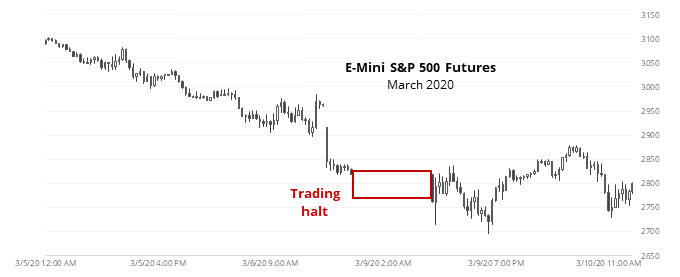 That is a drastic step and says a lot about markets. The goalposts keep getting moved when it comes to the circuit breakers, but the only time they'd been triggered other than Monday was in 1997. So far, it's tracking that date pretty closely.


Historic overseas selling
I've written a lot about the U.S. stock market's crash over the past 1-2 weeks, and I'd like to turn my attention to other stock markets around the world.
In Germany, 86% of DAX's members are oversold (14 day RSI < 30):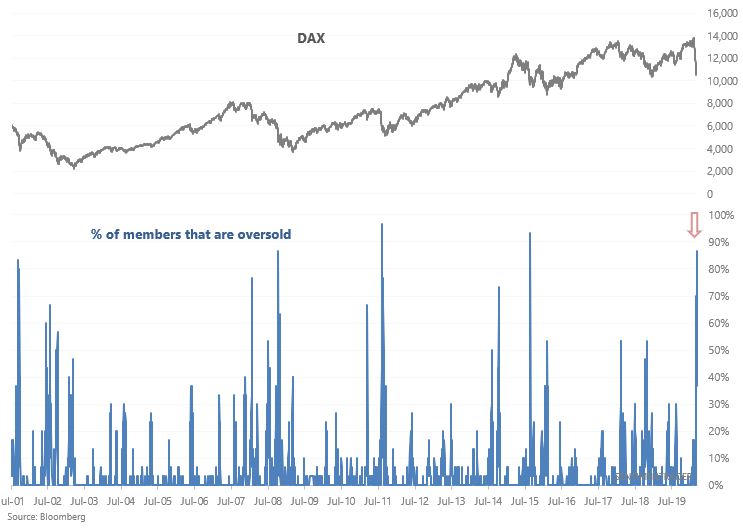 Such extreme selling has only been matched a few other times from 2001-present: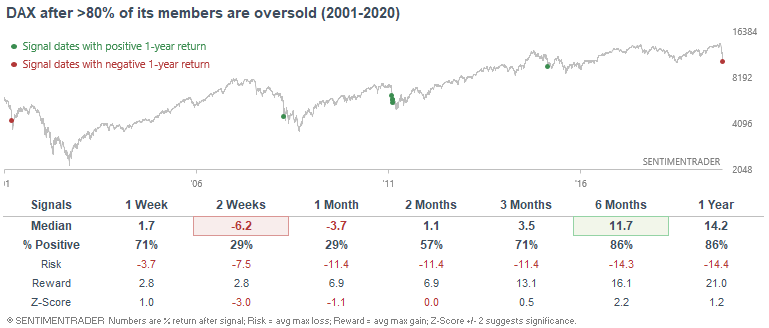 While the DAX could see more short term selling, this was usually followed by a double digit rally sometime over the next 2-6 months.
Things are even more extreme in France, Australia, and especially, Italy.
This is an abridged version of our recent reports and notes. For immediate access with no obligation, sign up for a 30-day free trial now.
We also looked at:
An analog of the other fastest pullbacks of nearly 20% since 1928
The S&P rallied strongly a day after a "crash" scenario
It also rallied while it 200-day average was still rising
We finally had a breadth thrust day, with (nearly) 90% up volume
The Bullish Percent Index has plunged
What happens when recession probabilities rise above 50%

Related Posts:
---
Tagged As:
The post titled One of the most unique moments in market history was originally published as on SentimenTrader.com on 2020-03-11.
At SentimenTrader.com, our service is not focused on market timing per se, but rather risk management. That may be a distinction without a difference, but it's how we approach the markets. We study signs that suggest it is time to raise or lower market exposure as a function of risk relative to probable reward. It is all about risk-adjusted expectations given existing evidence. Learn more about our service , research, models and indicators.
Follow us on Twitter for up to the minute analysis of market action.
Follow @sentimentrader