Oil's Shocking Jump Is Fooling People
---
---
This is an abridged version of our recent reports and notes. For immediate access with no obligation, sign up for a 30-day free trial now.
Shocking move
The jump in crude oil on Monday was one of the most shocking in 30 years.

For energy stocks, a 4 standard deviation jump in oil prices tended to be a good sign going forward, with only a single loss over the next 2-3 months. Contrary to what many may believe, it was also a good sign for indexes like the Nasdaq Composite, which was positive every time 6 months later.

It came at a good time
As noted last week, energy stocks were the most undervalued major sector, with a dividend yield at a record high relative to Treasuries. It also came when these stocks made up a record low percentage of the S&P 500 index.

New trend?
It faded during the day, so the S&P's energy component didn't quite pop enough above its 200-day average, which would end one of the longest downtrends since 1926. Other times long streaks ended, it was a decent long-term sign.
Volatility drip
Even though it rose a little bit on Monday, on Friday the VIX dropped below 14 for the first time in more than a month. As Troy noted, of the more than 20 times this has happened since 1990, all but one led to a higher return in the S&P 500 6-12 months later. The VIX itself tended to rise in the weeks ahead, but that wasn't necessarily a consistent negative for stocks.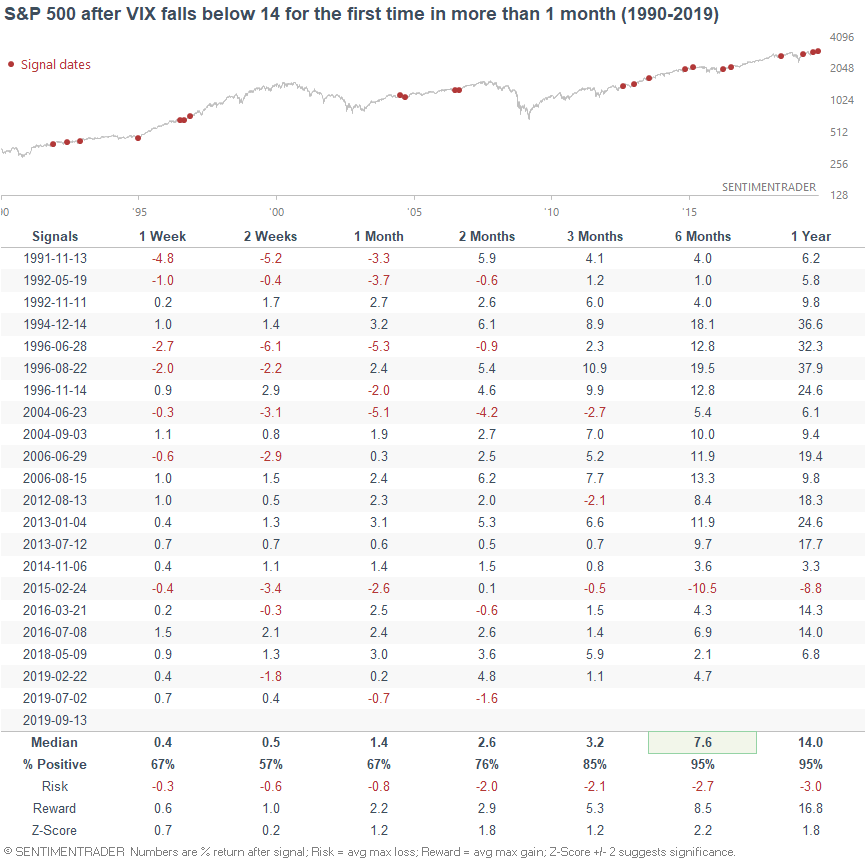 Broadening rally
The percentage of stocks on the NYSE above their 200-day averages hit a 1-year high. That has led to a positive return over the next 2 months all but once (a loss of -0.2%).

Related Posts:
---
Tagged As:
The post titled Oil's Shocking Jump Is Fooling People was originally published as on SentimenTrader.com on 2019-09-17.
At SentimenTrader.com, our service is not focused on market timing per se, but rather risk management. That may be a distinction without a difference, but it's how we approach the markets. We study signs that suggest it is time to raise or lower market exposure as a function of risk relative to probable reward. It is all about risk-adjusted expectations given existing evidence. Learn more about our service , research, models and indicators.
Follow us on Twitter for up to the minute analysis of market action.
Follow @sentimentrader