Oil's Near-Bear Market And 7 Straight Losses; Election Toss-Up
---
---
This is an abridged version of our Daily Report.
Oil's very bad month
Crude oil is nearing a 20% decline from its October peak, a bear market according to most definitions.
Optimism has since dropped below 40 for the first time in over a year, but it's still well above prior bouts of pessimism when it has dropped below 30 or even 20. More losses like the past week should go a long way toward getting us there, as the front-month futures contract is now down 19% from its peak. Whether you want to call 20% a bear market or not, it's still a big drop that tends to unnerve the bulls.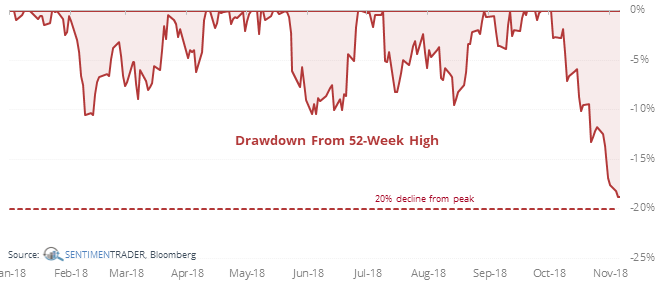 What's also notable about this slide is how persistent the past week has been, showing some urgency among sellers. Crude has now declined for 7 straight sessions, its longest slide in over a year. There were only three other 7-day losing streaks that triggered within 50 days of a 52-week high, and all of those rallied strongly, so at least that's something for bulls.
Not much going for it
It's hard to find many outstanding positives for oil, though. Sentiment is the lowest in a year but not quite to washed-out levels. Hedgers still haven't covered many shorts, and seasonality is mostly negative until the New Year.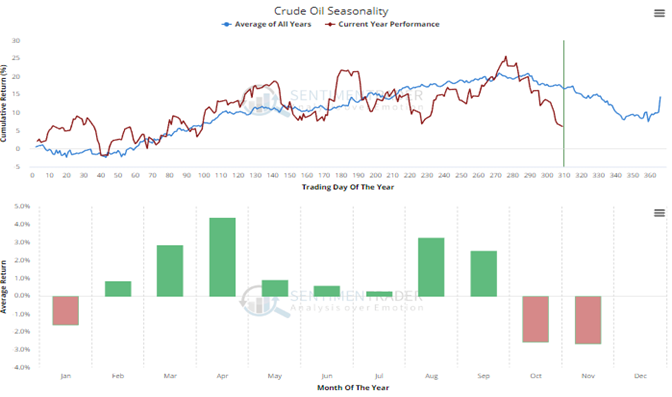 Election toss-up
It's mostly useless for laypersons to guess at election outcomes and even more so, the reaction in markets. But it's a popular pastime, so we show the few other times that an unpopular president has suffered losses in Congress in a midterm election. Stocks did fine, other assets were mixed going forward.
Mexican recovery
The 10-day Optimism Index on the EWW Mexico ETF just crossed up from below 20. According to the Backtest Engine, other times it recovered like this, it continued to rise over the next three months 76% of the time by an average of 9.6%.




The post titled Oil's Near-Bear Market And 7 Straight Losses; Election Toss-Up was originally published as on SentimenTrader.com on 2018-11-07.
At SentimenTrader.com, our service is not focused on market timing per se, but rather risk management. That may be a distinction without a difference, but it's how we approach the markets. We study signs that suggest it is time to raise or lower market exposure as a function of risk relative to probable reward. It is all about risk-adjusted expectations given existing evidence. Learn more about our service , research, models and indicators.
Follow us on Twitter for up to the minute analysis of market action.
Follow @sentimentrader