Oil And Energy Collapse; RSI Divergence; Smart-Dumb Money Extreme; Overwhelming Lows
---
---
This is an abridged version of our Daily Report.
No energy
Crude oil collapsed with a large loss and 52-week low on Tuesday. That's not what the Energy stock sector needed right now but taking the chance that we're whistling past the graveyard, the losses on Monday and Tuesday may just be bad enough to be good.
Also worth noting is that more than 60% of the stocks hit a 52-week low on Tuesday, the 12th-largest percentage out of nearly 7,300 trading days.

In the face of epic collapses like this, the Energy sector rebounded about 80% of the time over the medium-term.
Not oversold enough (?)
The S&P 500's Relative Strength Index fell into oversold territory in October but hasn't since.

The latest leg lower in stocks has been accompanied by a higher RSI, suggesting that stocks aren't "oversold enough." But that doesn't hold water when looking at other instances, especially since 1950.
Wide spread
There is now the widest difference between Smart Money and Dumb Money Confidence since January 2016. Using the Backtest Engine, we can see that such wide spreads led to good returns for the S&P 500, even if we're in a bear market or recessionary market environment.
Click here to see a more detailed blog post about testing this spread during bear markets and recessions.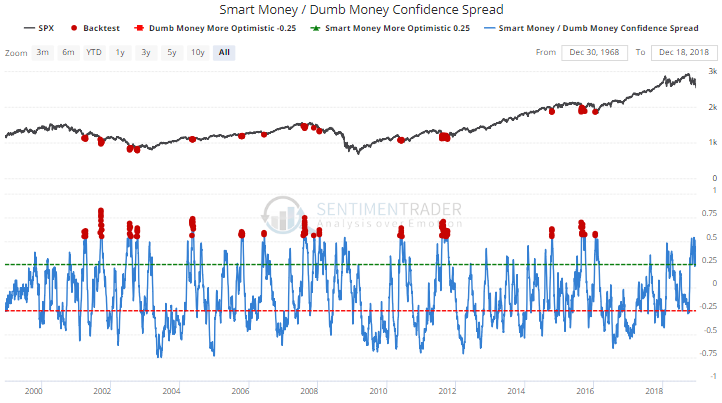 Overwhelming
During the past 3 sessions, the number of 52-week highs on the NYSE have made up fewer than 1.25% of new highs and new lows. This kind of overwhelming push in new lows has been seen on 41 days in the past 30 years. All 41 showed a higher return in the S&P 500 over the next year, averaging 20.6%. On a medium-term time frame, the only days with meaningful losses were 5 sessions in early October 2008.



Related Posts:
---
Tagged As: