No Flight To Safety In Bonds; Investors Have Turned Pessimistic
---
---
This is an abridged version of our Daily Report.
Bond market moves
Bonds sold off along with stocks during the last two big pullbacks this year, showing no flight to safety. That is unlike 2016 when bonds rose as stocks declined.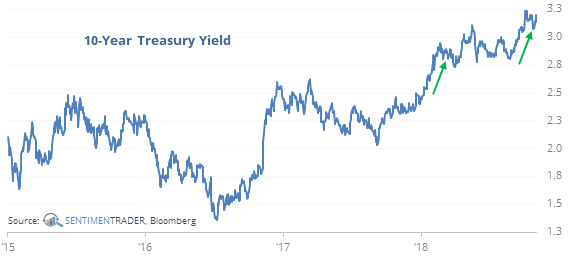 Historically, when bonds declined along with stocks during a selloff, it was not a bad sign for bonds, as they almost always rallied afterward. And while it could have been argued at the time that investors were not adequately fearful because they weren't rushing into Treasuries, it was not a bad sign for stocks other than right before Black Monday.
Investors aren't buying it
Even though bonds usually rallied after behavior like this, investors have yanked a huge amount from bond funds in recent weeks, and an overwhelming percentage of U.S. consumers expect interest rates to rise.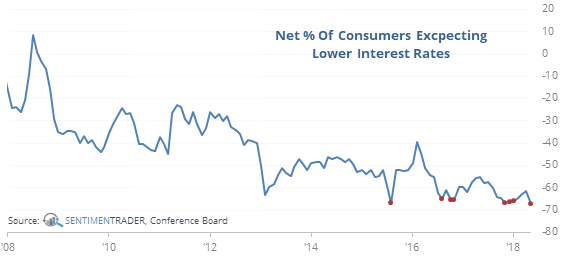 Bonds have been in a bull market during the entire survey period, so it's not surprising that prices typically rallied, and yields declined, after such overwhelming pessimism.
The latest Commitments of Traders report was released, covering positions through Tuesday
The 3-Year Min/Max Screen didn't show any new extremes of note, as hedgers continue to build on a multi-year extreme long position in orange juice.
Big payrolls
The Nonfarm Payroll report showed job gains of 50k more than expected. On days when the report beat by this much, the TLT fund rallied only 21% of the time, so today's 1.2% loss was in line. Anytime it lost more than 1% on a Payroll report day, it rebounded over the next three days only 35% of the time


Related Posts:
---
Tagged As:
The post titled No Flight To Safety In Bonds; Investors Have Turned Pessimistic was originally published as on SentimenTrader.com on 2018-11-05.
At SentimenTrader.com, our service is not focused on market timing per se, but rather risk management. That may be a distinction without a difference, but it's how we approach the markets. We study signs that suggest it is time to raise or lower market exposure as a function of risk relative to probable reward. It is all about risk-adjusted expectations given existing evidence. Learn more about our service , research, models and indicators.
Follow us on Twitter for up to the minute analysis of market action.
Follow @sentimentrader