Newsletters Throw In The Towel; Record Reversals
---
---
This is an abridged version of our Daily Report.
Throwing in the towel
Over the past decade, it has taken some severe moves in stocks, in a very short amount of time, to shake optimism among newsletter writers. That's what happened now, with a near-record drop in sentiment.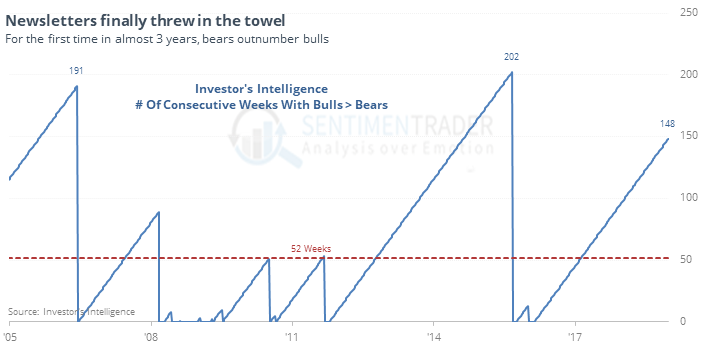 For the first time in nearly 3 years, there are now more letters looking for stocks to decline than rally. That has usually meant it's going to do the opposite.
This week's reading also ranks as the 3rd-largest change in the Bull Ratio in the survey's history. It has been nearly 30 years since the Bull Ratio dropped more than 12 percentage points in a single week. This time, it was more than 18 points. Using a 3-year lookback range, this week was nearly 3 standard deviations from normal.
Record reversals
The big drop and reversal last week triggered a record number of reversals among S&P 500 stocks, by a long shot. Nearly half of the stocks set a 52-week low before reversing to close higher. That has only occurred during panicky markets, which typically meant a medium-term recovery.
Nervous nellies
The S&P 500 fund, SPY, gapped down more than 1% before reversing to close up for the day. This is occurring within two weeks of a 52-week low. Investors are nervous. In SPY's history, it has happened 14 other times, almost all of which were in 2002 and 2008.
Stretched for a month
The Stock/Bond Ratio has been extreme for a month now. The 20-day average is below -2.5 for the first time since 2011. The Backtest Engine shows that there have been 50 days since 1969 when it has been this extreme, leading to a rally in the S&P 500 over the next two months after 43 of them.



Related Posts:
---
Tagged As:
The post titled Newsletters Throw In The Towel; Record Reversals was originally published as on SentimenTrader.com on 2019-01-03.
At SentimenTrader.com, our service is not focused on market timing per se, but rather risk management. That may be a distinction without a difference, but it's how we approach the markets. We study signs that suggest it is time to raise or lower market exposure as a function of risk relative to probable reward. It is all about risk-adjusted expectations given existing evidence. Learn more about our service , research, models and indicators.
Follow us on Twitter for up to the minute analysis of market action.
Follow @sentimentrader