Newsletters Are Shorting; Breadth Swings; No Highs; Big Outflow; Buying Stampede
---
---
This is an abridged version of our Daily Report.
Get shorty
While individual investors in the AAII survey became pessimistic a week ago, this week there were more than 50% bears in the survey for the first time in 5 years. That has made a different in other surveys, too. According to one measure of newsletter writers' recommended exposure to equity indexes, we've reached a true extreme in pessimism that has preceded excellent returns in stocks.
Swings in breadth
The NYSE Up Volume Ratio has swung to an extreme reading on back-to-back-to-back-to-back days.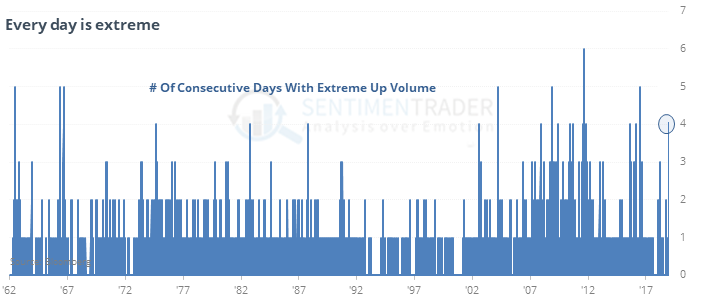 This is something that has led to an average return of 20% in the S&P 500 over the next year with only a single loss.
No highs
Among S&P 500 stocks, there have been no 52-week highs for six straight days, while more than 10% of stocks in the index fell to a 52-week low. This is the longest such streak since at least 1990.
Get out…of everything
Investors pulled more than $46 billion from equity and bond funds in mid-December, the 2nd-most in more than 20 years.
Stampede
More than 50% of securities on the NYSE traded on an uptick at the same time for the 2nd day in a row. It was the most lopsided buying stampede since 1990.



Related Posts:
---
Tagged As: