Newsletter Optimism Ebbs As Gaps Pile Up
---
---
This is an abridged version of our Daily Report.
Ebbing optimism
Newsletter writers have continued to pull back their stock market expectations. The Investor's Intelligence Bull Ratio is now below 70% for the first time in more than six months.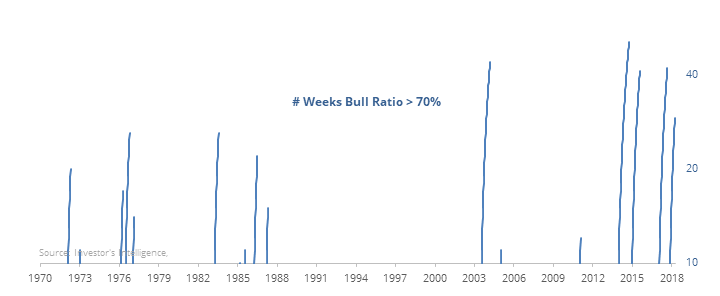 Other times a long streak of optimism ended, stocks showed subpar returns, until either optimism returned or declined enough to be neutral at most.
Every day an emotional swing
For the past 8 days, S&P 500 futures have opened far from where they closed the prior day. That's one of the longest streaks of emotional opening volatility since 1982.

Short-term returns were negative after other streaks, but long-term returns were very good.
Dollar doldrums
Two years ago, there was more than $250 million invested in the Rydex Strong Dollar mutual fund. Now it's down to a lowly $7.9 million, a decline of 97%.
F
or access to the full report, indicators, charts, screens, and Backtest Engine, log in or sign up for a free 30-day trial today.
Related Posts:
---
Tagged As:
The post titled Newsletter Optimism Ebbs As Gaps Pile Up was originally published as on SentimenTrader.com on 2018-04-12.
At SentimenTrader.com, our service is not focused on market timing per se, but rather risk management. That may be a distinction without a difference, but it's how we approach the markets. We study signs that suggest it is time to raise or lower market exposure as a function of risk relative to probable reward. It is all about risk-adjusted expectations given existing evidence. Learn more about our service , research, models and indicators.
Follow us on Twitter for up to the minute analysis of market action.
Follow @sentimentrader