Newby investors are feeling their oats
---
---
The headlines are clear that markets only go up, trading is easy, and newby investors are pouring in.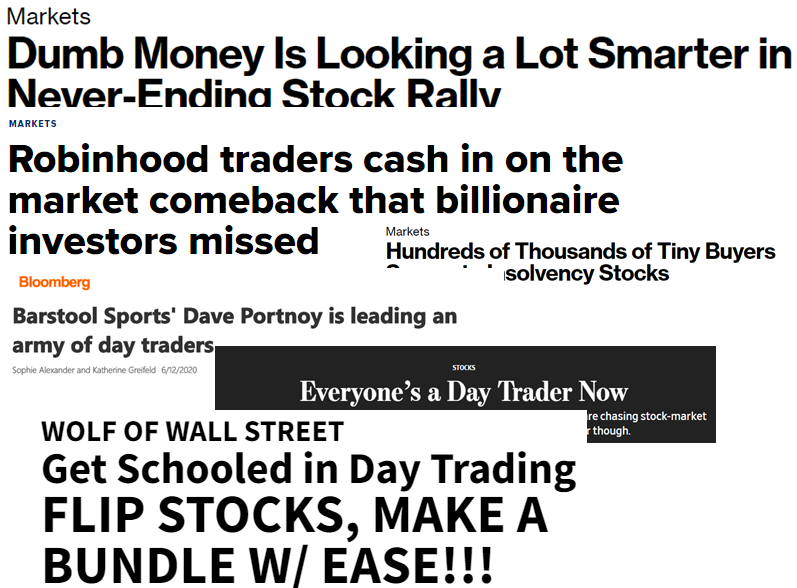 But headlines can be deceiving, and trying to rely on anecdotal "magazine cover" types of evidence is sketchy and prone to failure. The latest press release from E-Trade puts some hard numbers to the idea that new traders are becoming aggressive.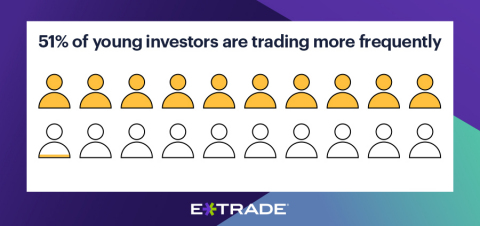 "Risk tolerance skyrockets since the pandemic. Over half (51%) of Gen Z and Millennial investors say their risk tolerance has increased since the coronavirus outbreak, 23 percentage points higher than the total population.
They are taking cash off the sidelines. Over one in three investors (34%) under the age of 34 said they are moving out of cash and into new positions, 15 percentage points higher than the total population.
And they are trading more frequently. Over half of investors (51%) under the age of 34 said they are trading equities and 46% said they're trading derivatives more frequently since the pandemic, compared to 30% and 22% of the total population, respectively."
When people cite surveys like the one from the American Association of Individual Investors, which is actually showing significant pessimism, they fail to take demographics into account. AAII skews much older and conservative, investors typically with much experience under their belts.
No indicator is perfect, not even price. Watching sentiment can give an excellent heads-up about whether markets are presenting new investors with high risk, or high reward, even if the timing may be off. With so many inexperienced investors (traders, really) feeling their oats and boasting about their returns, it would be awfully rare to see markets accommodate them for long.
The post titled Newby investors are feeling their oats was originally published as on SentimenTrader.com on 2020-08-19.
At SentimenTrader.com, our service is not focused on market timing per se, but rather risk management. That may be a distinction without a difference, but it's how we approach the markets. We study signs that suggest it is time to raise or lower market exposure as a function of risk relative to probable reward. It is all about risk-adjusted expectations given existing evidence. Learn more about our service , research, models and indicators.
Follow us on Twitter for up to the minute analysis of market action.
Follow @sentimentrader